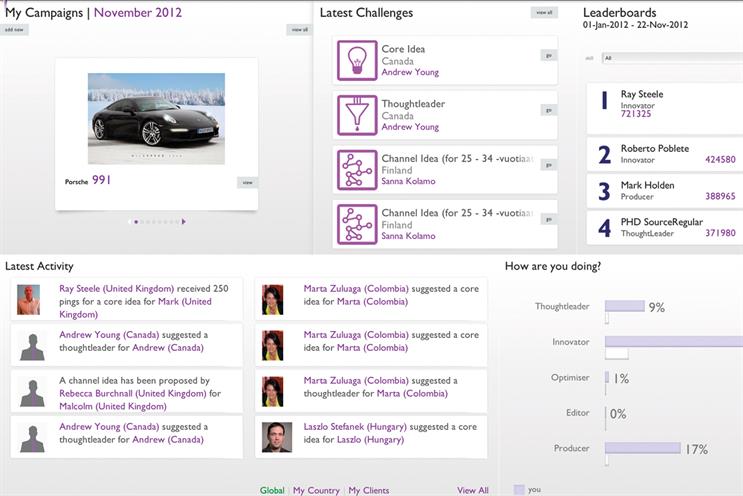 PHD has always been rather good at branding its planning expertise. It didn't exactly invent the branded "planning system" (many international media networks began developing "toolkits" in the mid-90s, for instance), but its ETNA system was, in its own way, rather revolutionary when it launched in 2005.
It was devised as a focus for the agency's new-found evangelical belief in the analytical insights that could be mined from the (highly fashionable in marketing circles, at that point) field of neuroscience; and that was bolted on to attempts to shake up internal structures and working processes.
Well, now PHD is attempting to steal a march on its rivals again – this week, ETNA has been replaced by Source; and the fashionable theme, this time around, is "gamification".
The launch of Source should certainly reopen debate about the direction media agencies are headed. Because, of course, just about every agency in town has a branded planning process knocking about somewhere. It's just that, in the past couple of years, the downturn has prompted agency bosses to focus on cruder imperatives.
It's also true that this can be a confused and confusing area. The notion of the "planning product" can mean different things to different people. Some agencies place greatest emphasis on gathering and analysing data; others focus on econometric modelling software systems that help inform channel choice in an ROI context. And, in some cases, a branded planning product may be no more and no less than a formalised statement of a media agency's philosophy – and a commitment to staff training.
The new PHD system was devised by a team led by Mark Holden, the agency's worldwide strategy and planning director. He says he doesn't want it to seem like he's overhyping his new toy, but he says that Source will do all those things and more.
It's an ambitious attempt to create a "global brain" out of the agency's worldwide staff of 3,000 – and change the way staffers think about work in general and problem-solving in particular.
And rivals may note with interest that, even during its developmental phase, it has already started earning its keep. Source is believed to have played a big part in PHD's successful bid to land Unilever's global planning business in its recent review.
1. Source will seek to put gamification theory (the notion that you get the best out of people if you redesign tasks to reproduce the immersive experience of a computer game) into business practice. The Source system functions not only as a strategy framework but also as a "live collaboration engine" that allows for everyone within PHD to work together in real time – and when they're in this mode, they're effectively players in what the computer-gaming world calls a "massively multiplayer online" game. Each member of PHD's worldwide staff will be able to see how they are performing on a real-time global leaderboard.
2. Architecture of this "game" will be based on econometric modelling and optimisation software tools – and it will seek to make data-driven insights available in simplified and easily accessible formats. It will also harness the latest insights emerging from social sciences – particularly recent studies in behavioural economics and the related field of choice architecture.
3. Two WPP agencies, MEC and MediaCom, have recently relaunched their branded planning systems. MEC's, called Navigator, is a template for attacking a brief, moving from the "discovery" stage in which the nature of a task is absorbed, through the development of campaign and strategic ideas, to a measurement process that assesses effectiveness. The system also plugs into econometric modelling tools provided by its fellow WPP unit OHAL.
4. MediaCom's Real World Communications has been relaunched as Real World Connections. It has four key stages: "Where are we now?", "Where do we want to be?", "How do we get there?" and "How will we know when we've arrived?" Within those stages there are guidelines on the questions planners should ask and the practices they should follow to achieve what are called Real World Outputs. Each stage is underpinned by a set of planning tools that are regularly updated to make them relevant to a changing media landscape – for instance, the agency's recently developed "fame optimiser", which is used to plan TV campaigns according to the cultural traction that various programmes have.