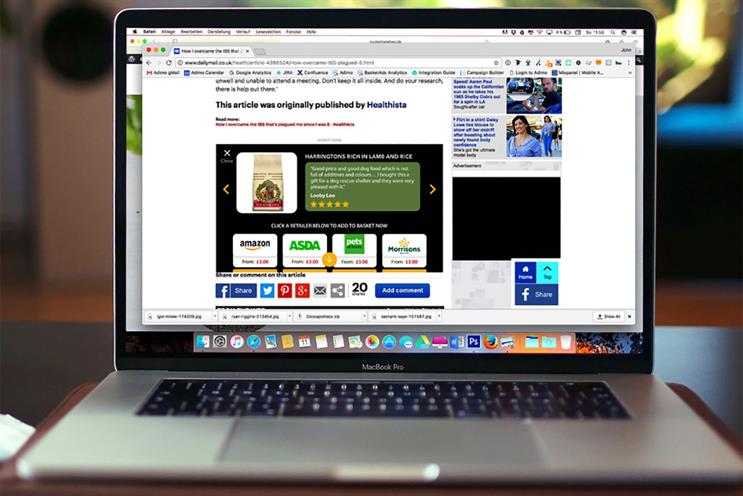 I love being sold to when it's done well. You walk into a shop, the salesperson greets you like you're both human beings, they listen — really listen — to what you need. Then they close the deal. They match you with the right product and help you buy it.
But how often are you met instead by someone who doesn't care about you. They just care about their commission. They talk over you, they don't listen, they repeat themselves. It actively puts you off buying.
So, why is so much digital advertising like the second salesperson and not the first? And why do we spend so much time (and money) trying to measure how much of it converts — and then act surprised when the answer is 'very little'?
Here's an idea. Why don't we be the first salesperson: use digital advertising to talk to our consumers like human beings and then ask them for the sale — and make that sale easy.
It shouldn't be this hard
A lot of the controversy around digital advertising comes from the simple fact that we don't ask for the sale. Is viewability really a good measurement of success? No. For a start, viewability levels are falling (down to 51% according to one survey [1]) and how much can we really connect with a brand in two seconds?
Or let's take attribution. Despite match rates improving all the time, it's tricky to be 100% sure of your attribution when a buyer must leave your advert and then find an online store or even a high-street store where they can actually buy.
To paraphrase P&G's Marc Pritchard, in his recent speech at DMEXCO, why aren't we creating ads that are valuable to the consumer and which people will want to engage with for two seconds or longer? And what could be more valuable, than serving ads — or videos or content marketing — that have great creative and that make buying easy, in just two or three clicks?
We have the technology
But how can we make ads 'shoppable' without alienating some channel partners in favour of others? And is it possible to let shoppers buy with just a few clicks for anything but the simplest single-product purchase? For instance, what about a piece of content marketing, for instance a recipe or a technology how-to. Is there a system that lets the consumer buy all the products featured in that content, in just a few clicks?
Yes, there is. The technology now exists not only to build a buy-function into any kind of digital advertisement or other content, it can also make that buy-function sophisticated enough for the consumer to purchase a range of products, from any one of several different channel partners, in just a few clicks.
Imagine an app that lets a woman use her smartphone camera to 'try out' different combinations of make-up. With the right technology behind that app, once she'd found the look she wanted, she could buy all the products she needed in just a few clicks.
And there'd be no question of channel favouritism, because the app would let her choose which retailer to shop with. It would copy all the products to her basket with that retailer. Not ready to buy? No problem, the products will still be there next time she does a shop.
Enabling the sale solves a lot of problems
Digital advertising is going through a stormy patch. Marc Pritchard kicked it all off in January and since then we've all, quite rightly, been agonising over the transparency of digital supply chains, viewability, and all the other issues that keep us awake at night.
A lot of these problems would be a lot less knotty if we just asked for the sale, measuring which ads actually worked and which customers were converting. It's not 2005 anymore, we can make the sale online from the ad. Let's use that ability to make our clients happy by making the sale for them.
Research paper: free advanced copy
I want to offer you a free research paper we're writing. It's an in-depth look at exactly the kind of issues covered in this article: viewability, attribution, the effectiveness of digital marketing.
To get a copy of the research paper, click the link below, take the survey, and we'll email you a first-look copy of the research paper as soon as it's released as well as enter you into an exclusive prize draw.
Richie Kelly is the CEO of Adimo, a company which can make all of your ads and your content marketing shoppable.
1. Meetrics Viewability Benchmark Report: Q2 2017.