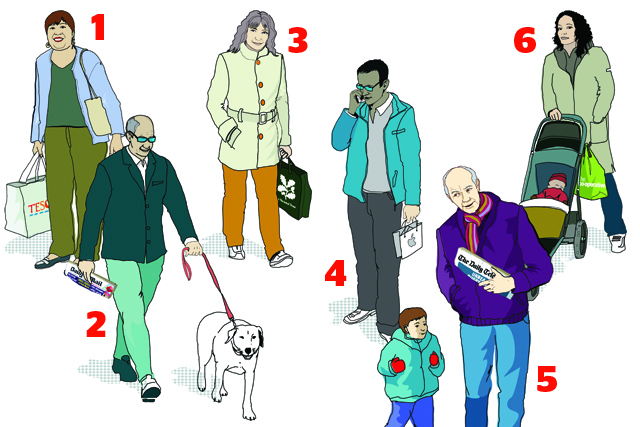 It was John Prescott, the former deputy prime minister, who said in 1997: 'We are all middle class now.' It seems that Prescott was ahead of his time, as a survey published this week reveals that 71% of the British population now believe they are, indeed, middle class.
Of these, just 7% say they are 'upper-middle', 43% opt for 'middle', while 21% identify themselves as 'lower-middle'. Even old-Etonian Prime Minister David Cameron, a descendant of William IV, recently described himself and wife Samantha, daughter of a Baronet, as middle class. It appears there are no limits to the membership of this group.
The study of 2000 adults, 'Speaking Middle English', conducted at the end of 2010 by research company BritainThinks, is an attempt to plot the shape of today's class system. It tracks people's opinions across a range of factors that are critical to marketers.
As well as identifying social group demographics, respondents were shown a list of 100 brands to identify their preferences. Questions were also posed regarding 'brand/company/organisation that people I admire would use or associate themselves with', and opinions on statements such 'I'll often spend extra money to get the right brand'.
Source of debate
BritainThinks co-founder Viki Cooke says the number of people describing themselves as middle class has hit a high. 'In the 90s, many people defined themselves as working class but aspired to be middle class. Now a large proportion have achieved their aspirations.'
The research splits the middle class into six segments: Bargain-hunters, Daily Mail Disciplinarians, Comfortable Greens, Urban Networkers, Deserving Downtimers and Squeezed Strugglers.
While customer profiling is central to most marketing departments, marketers are split on the merits of responding to the burgeoning middle class.
Steven Sharp, executive director, marketing, at Marks & Spencer, who participated in a panel debate at the report's launch this week, says this segmentation offers 'great value'.
'It is clearly wrong to treat everyone as if they are the same person, but it's also not possible to speak to everyone individually,' he explains. 'Segmenting based on their lives, attitudes and actions at least gives a credible way to maximise relevancy of the message.'
Jim Slater, marketing director of Costa Coffee, a brand favoured by 'Urban Networkers', has doubts, however. 'Brands like ours have detailed customer data and real-time behavioural analysis, making segmentation models based on panel data seem like a comparatively blunt instrument.'
He claims that, with more than a third of the UK's adults visiting Costa in any three-month period, his audience is a broad church. 'We don't believe it's appropriate to pigeonhole customers along the lines of social class,' he argues.
While Saatchi & Saatchi strategy director Richard Huntington 'hates segmentation lumping people together with silly names and pen portraits', he believes this research has worth. 'Unlike most segmentations that just focus on brands and lifestyle, this has a political element, helping us get inside people's minds and work out their motivations.'
Debates will forever rage about the relevance of class in the UK. Nonetheless, with so many consumers now identifying themselves as middle class, it's a trend that marketers would be unwise to ignore when it comes to campaigns and NPD.
1 BARGAIN-HUNTERS
17.4% of population
24.3% of the middle class
8.1m adults
- More likely to be aged 35-54
- More likely to be women
- Read the Daily Mail
- Believe they have lower income than other middle-class people
- Have fewer holidays
- More likely to vote BNP
- Very concerned about kids' future
- Like Britain's Got Talent and take-away food
- Don't like TV documentaries
Agree
- Always on the hunt for a bargain
- Would rather take on debt than cut back on spending
- Don't have the energy to be active in my spare time
Brands
Like Tesco, eBay, Muller
Don't like Visa, John Lewis, Sainsbury's

2 DAILY MAIL DISCIPLINARIANS
15% of total population
20.9% of the middle class
7m adults
- More likely to be older (73% aged over 45), and male
- Read the Daily Mail and Telegraph
- Financially secure, with significant savings
- Expect their children to go to university
- Like watching TV and taking foreign holidays
- Don't like volunteering or takeaway food
Agree
- Britain is a soft touch for immigrants
- Parents are too liberal nowadays
- People who talk about the environment are boring
- Less motivated by brands
Brands
Like Virgin, Cadbury, Sainsbury's, BA
Don't like L'Oreal, Channel 4

3 COMFORTABLE GREENS
12.7% of total population
17.8% of the middle class
6m adults
- Older (66% aged 55+, 44% retired), likely to own their home.
- Watch Antiques Roadshow and Strictly Come Dancing
- Active in their community
- More interested in foreign affairs
- More likely to vote Lib Dem
- Like reading books, watching TV, gardening and walking
- Don't like fast food or talent shows
Agree
- Worried about the 'lost generation' of young people
- Buy everything from ethical and environmental brands
- Think about food provenance
Brands
Like National Trust, Waitrose, Marks & Spencer, BBC Radio 4
Don't like Sky, Coca-Cola, Asda

4 URBAN NETWORKERS
12.5% of total population
17.5% of middle class
5.9m adults
- Younger (79% aged under 45), with young families, or single
- Urban, working full-time
- More likely to describe parents as upper/middle class
- Volunteer at kids' school
- Watch US drama on TV
- More likely to have a pay-monthly mobile account
- Like takeaways and The X Factor
- Don't like Six O'Clock News or Strictly Come Dancing
Agree
- The internet changed my life
- Online networks are a great way to keep in touch
- Very motivated by brands
Brands
Like Apple, Costa Coffee, PizzaExpress, Porsche, Sky
Don't like None - they are very pro-brands

5 DESERVING DOWNTIMERS
8.1% of population
11.3% of middle class
3.8m adults
- Older, mainly retired (57%)
- More likely to own their home, be a graduate, have substantial savings
- Take more foreign holidays
- Frequent National Trust visitors
- Read The Daily Telegraph
- More likely to vote Conservative
- Like reading, gardening and natural history TV programmes
- Don't like fast food, US dramas or The X Factor
Agree
- The burden from Britain's financial problems is being spread equally
- Being a good parent is about setting boundaries
- People expect the government to do too much
Brands
Like John Lewis, Marks & Spencer, BBC Radio 4
Don't like Asda, easyJet, Coca-Cola

6 SQUEEZED STRUGGLERS
5.8% of the total population
8.2% of middle class
2.7m adults
- More likely to be female and single parents
- Less likely to be graduates
- Less likely to read a newspaper
- More likely to vote Labour
- Like watching TV, especially US dramas and soaps
- Don't like gardening
Agree
- It's a struggle to make ends meet
- I want to be a contestant on a reality TV show
- It's right that the less-well-off get more support from government
Brands
Like Tesco, The Co-operative, ITV, Gillette, British Gas, but admire
people who shop at John Lewis
Don't like Marks & Spencer, Sainsbury's, Virgin Atlantic, National Trust