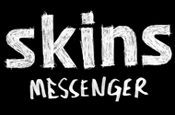 Coinciding with the show's return to our screens, this new social media tool, created by Channel 4 especially for the series, will enhance viewers' interactivity with the programme.
Skins Messenger will release messages and content every Thursday night at 10pm as the show airs, including interviews with the cast and crew as well as bonus material not shown on TV.
Fans of the series will be able to access details of the soundtrack played as they watch the show in real time, as well as video diaries and behind the scenes footage.
Users will also be able to view previews of the next episode as well as access track listings for the previous show.
Skins Messenger will be active during the Thursday premiere as well as the Sunday repeat, both on E4.