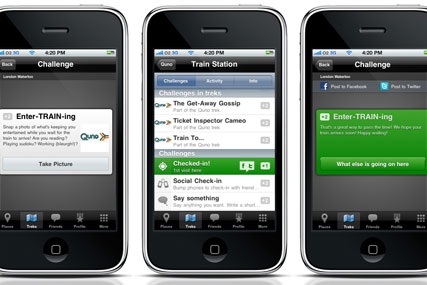 Quno, which launches later this year, is going up against sites such as thetrainline.com to provide travel information and train tickets. It promises to make it easier to book tickets.
The site has teamed up with SCVNGR, a mobile social gaming platform, to create a game that can be played at London Waterloo, Paddington, Liverpool Street, Euston, Bristol Temple Meads, Birmingham New Street, Manchester Piccadilly and Edinburgh.
The game challenges players to a series of tasks and challenges, to earn points and badges and compete against other players at the same station. Players join by downloading the app on their iPhone or Android-based handset.
Quno hopes the new game will encourage more people to use the beta site. At the moment, the site is invitation only, but one of the rewards of the game will be an access code.
Jeremy Acklam, managing director of Quno.com, said: "Interacting with rail travellers at rail stations will enable us to better understand their needs while providing some light hearted entertainment.
"At Quno we understand that customers want us to deliver the latest technology to make their online rail search and booking simpler. With SCVNGR we have extended this into mobile games, delivering them direct to rail travellers."
Quno is currently in beta. It will sell tickets for all UK train operators, including fully flexible, semi-flexible and tickets discounted up to 80% on the price of a ticket bought on the day of travel.
At the beginning of summer, Quno used a social network campaign through the microsite trainspotterwanted.co.uk to find someone to run its social media campaigns. Further activity, including advertising, is planned later this year.