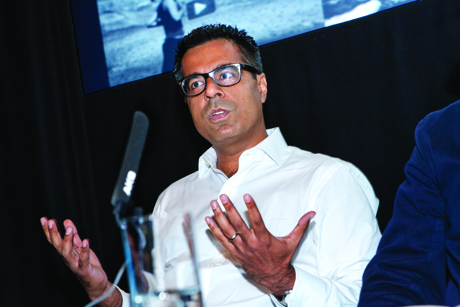 On one of the rare sunny mornings of this month, a cluster of creatives, media planners and buyers and digital strategists eschewed the rays for the darkened Screening Room 2 of The Soho Hotel to hear six experts tussle over the opportunities and challenges of online video.
Playing to a venue packed to full capacity, the panel debate, in association with goviral, the branded video distribution company, covered huge ground. We've sifted through and brought you some edited nuggets here.
---
THE PANEL
Emma Jenkins, chief marketing officer, giffgaff
Jason Goodman, chief executive, Albion
Paul Frampton, managing director, MPG Media Contacts
Asad Rehman, director of global media and innovation - foods, Unilever
Rene Rechtman, chief executive, goviral; senior vice-president, AOL International
Ben Wood, managing director, iProspect.
---
Changing behaviour
Paul Frampton, the managing director at MPG Media Contacts: "In a hyper-connected, hyper-transparent world, people want stuff when they want it and they want it in a format they want it in.
"So if I want to look at a holiday resort, I expect to see a video of it, I don't just want to read text. I do that because it's more engaging to watch a video, but also because I'm lazy and the expectation has become that you get to what you need much more quickly. Also, our research shows that tablets tend to be used in the home, which is interesting because most people think of them as a mobile device."
Jason Goodman, the chief executive at Albion: "I think there's a couple of new user interfaces that exist fundamentally to change the game or the situation - swiping is one and shareability is another. They are now mainstream behaviour and it's changing the way we create content and distribute it."
Asad Rehman, the director of global media and innovation - foods at Unilever: "We have this analogy in Unilever that you can't put Champagne in a shot glass. It wouldn't taste the same. Just as you have to tailor your content with respect to who the audience is, their needs and moods, and the particular device. Also, they not only want to share, but to be part of the story at times."
Rene Rechtman, the chief executive at goviral and senior vice-president at AOL International: "There's a new trend of quiet opt-out - a peer-to-peer global phenomenon as a result of bad products, bad communication and bad advertising. The majority of people are actually influenced by their peer group in consideration of buying a product. These are some of the strongest trends we as advertisers need to take into consideration."
The brand experience
Emma Jenkins, the chief marketing officer at giffgaff: "Online video can work for every brand. It's all about an idea and the fundamentals of marketing and connecting with people, and that doesn't change. If you've got a compelling idea that adds value to the audience, then you've got the ingredient. In this day and age, you can provide quite customised experiences for discreet segments of your audience that really delight them and then something else for another segment. That, for me, is just about being respectful - it's about not wasting people's time with substandard communication that's watered down to the point where it doesn't really float anybody's boat."
Measuring success
Ben Wood, the managing director at iProspect: "The smart brands are those that start with an end in mind. There are lots of ways brands can calibrate the success of a video campaign. It may be sales driven by that piece of video. They may not need to go viral, they might have brought enough eyeballs to deliver that."
Rehman: "We have a saying at Unilever that viral is not a race, it's a strategy. I think video works best when it is embedded in the whole campaign. We used to spend 75 percent of our money on producing TV commercials. Imagine if you were to make them as effective online as they are on TV. Success would replicate itself in mass across all sorts of online channels. That's the objective."
Jenkins: "Integration is critical and video can play a brilliant supporting role, but it can also play the starring role. Our 'unlock a phone, unlock a chicken' campaign got more than two million views on YouTube."
Frampton: "Part of the problem is that we don't know how to measure online video against TV. There's a move back to long-form TV ads, so do you start your message on TV and then take it to a different platform where it's more cost-effective and measurable?"
Rechtman: "It may take longer than we are used to, but let's try to find some measurements that fit this new paradigm. I haven't seen the perfect measurement yet and we have to be careful what we do. Something new is happening."
Rehman: "People are watching more and more content, and investment in high-end, long-form production is huge. Where perceptions go wrong is where we're still trying to measure delivery of our message versus reception of that message."
Goodman: "It takes brands to constantly experiment as well. Trialling the next-generation ad formats is risky, but reserving some marketing budgets for that is the industry's responsibility, otherwise we won't move on and will be stuck in this pre-roll nightmare for ever more."
Beyond pre-roll
Frampton: "Pre-rolls became the format advertisers would first trust when moving a bit from TV to digital. People increasingly want things personalised, so we'll see more immersive formats, but they'll be user-controlled. You've got to give something meaningful to consumers for them to buy into it and video is the perfect delivery method. Online behaviour can be sent back into dynamic ads that change as and when people experience different environments. It's not going to happen tomorrow - people are scared of risk - but when big TV spenders like Unilever start to put 10 per cent of budget into video, that's what actually starts to shift the dial."
Wood: "I don't want to write off pre-roll. We're reading addressable data to make advertising more relevant, more real-time and to drive better ROI for clients. So, while the format is a bit old-fashioned and clunky, the ability for a brand to know exactly who they're talking to and to tailor a piece of video content to really engage with that consumer is really exciting."
Jenkins: "What's exciting for me is that, instead of creating awareness then having a break in the consumer journey, now the technology available means you can take someone all the way through the funnel in one seamless experience."
Frampton: "Video bridges this whole thing that we call bought, owned and earned. It's actually a really interesting channel."
Reimagining advertising
Goodman: "I think we need to reimagine the way we do advertising. Consumers don't love advertising any more. Clients are dissatisfied with its cost and effectiveness, and the agency model is relatively broken. I like it when things are broken, because then you can start again. In the future, for me: collaboration is everything. We don't separate people into departments any more, we have solutions teams. For our work on Cuervo, the creative director was the lead singer in OK Go, not the creative director at the agency. You need to get people to work together early enough so you can spend longer on execution and then be more likely to create something really compelling."
Jenkins: "We need to find ways to produce good enough content very fast. If you're taking two days from the thought and inspiration to getting it out to consumers, you've missed your window in some instances. We've got to look at alternative production solutions that are fit for purpose."
Rehman: "It's very difficult to do. How you bring everyone together is a big challenge. But the earlier you do it, the better."
Wood: "The clues are in software development. It's a constant process of evolution ... and the people around the table will look different to five years ago and might include a broadcaster now."
Rechtman: "Yes, we now have production people around the table, creatives, entertainment people, but not many media agencies ..."
Frampton: "Media agencies were built to buy paid media. But now we have a branded production team in the agency. If you can link the media and creative together, then that's where the magic starts to happen."
Questions from the floor
Is it ever a good idea to put a TV ad online?
Jenkins: "There's research that shows TV ads online have a more polarising effect than on TV. I think the answer is not always no, but it quite often should be. You could shoot extra rushes while filming the TV ad to create more bespoke online content."
Frampton: "I agree. The optimum length of time for a pre-roll is seven seconds. People have got less time and are snacking. That's never going to work around a TV ad, it's just what we've got to deal with. In a world of 'test and learn', it's more interesting with dynamic ad services to understand which parts of the content actually do get traction with different audiences."
Goodman: "In five years' time, we'll have nailed the formula for long-form content online. That's the interesting opportunity."
Is broadcast TV dead?
Wood: "They way people are going to consume content is going to be less about appointment to view and more about snacking. They will be less concerned about where it's coming from and more about its quality and whether it delivers."
Rehman: "I don't think broadcast TV will die because of the value of live entertainment. And there's a lot of money being pumped into keeping TV alive. But the delivery of TV through historical infrastructures may change."
Rechtman: "Live is always going to be about broadcast. But Samsung is putting apps on TVs, so that will change the way we watch."
Frampton: "The world is just going to get more complicated for us. We need to think more about the screens people are watching on, and this gives us the opportunity to think about richer ways of getting longer-form content into some of these other environments, so it has massive implications for how we plan media."
How to convince clients who don't watch online video to invest in it?
Jenkins: "Break it down into safer parts and agree that, if you hit certain criteria, then you'll do more of it. Bring the rigour in to de-risk it for the client."
Frampton: "Agencies need to be paid partially on performance."
Wood: "It's not appealing to a client to have to spend as much on production as they're potentially spending on media."
Rehman: "The client's desire to survive is what will lead to success."
How to get consumers actively involved in online film?
Rechtman: "In the next five years, we'll see a tremendous change in the way we'll consume content and in which it will be delivered, so formats will be much more interactive."
Jenkins: "Personalise and customise the experience. What's going to be really important is genuine value-adding and not just a token."
And finally ... 30-second tips
Rehman: "Get online video upfront in the campaign development process."
Goodman: "Make sure you understand the whole process, from production to distribution. When you understand all the pieces of the pie, you're more likely to reinvent it."
Frampton: "Don't plan video in isolation."
Jenkins: "Make it magnetic and irresistibly compelling. Then everything will flow and you can spend less money."
Rechtman: "Creative, production and distribution need to be much closer together."
Wood: "Brands that invest heavily in creating really engaging and original content are beginning to win in natural search - great creativity will actually drive the performance and the return."