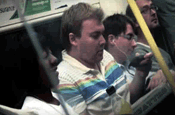 Six short films have been created in CCTV style, each following a Fifa 08 player as their games unfold on London Underground trains.

Undercover cameras capture fellow passengers' bemusement as the players elaborately celebrate last-minute goals, ask other passengers to move because they're in their 'lucky seat', and even accept a pizza delivery to the carriage.

From the N-Gage website users can then download the gaming application, obtain a Fifa 08 licence and purchase the Nokia N95 mobile.

You can see the ads at the Nokia N-gage Fifa 08 site.