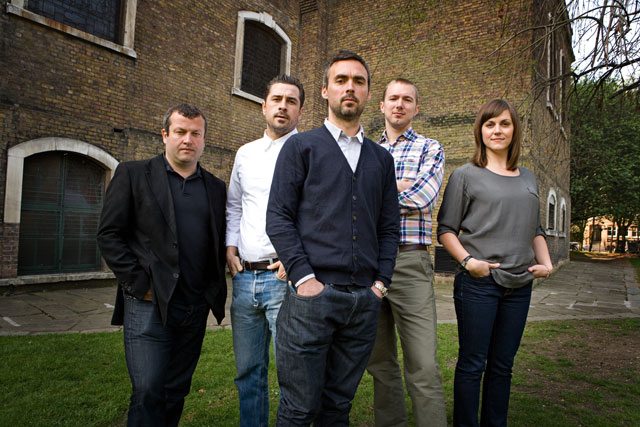 So what happens when you merge a successful agency that no-one has heard of with something of a basketcase that at least retains vestiges of its former fame? This is not an unfamiliar conundrum for network management, who inevitably think that the result will take the best of both its component parts rather than become some hideous dysfunctional Hydra. Network management, however, are frequently wrong.
Brad Fairhead, the managing director of the new agency hypernaked, has been charged by Nigel Long, the international head of Photon, with ensuring that the former rather than the latter scenario prevails.
For most people, Fairhead will not be a familiar name - this is not really surprising given that he has spent the past six years toiling in the shadows at the equally obscure, but apparently quite good, Photon-owned digital agency Hyper. It's something that Long acknowledges - he says that Hyper has been "a quiet success story rather than attention-seeking and 'hot'".
Fairhead has experience of enforcing mergers - he was a founder of Young & Rubicam's The Digital Edge, which was, following the last dotcom bust, subsumed into its sister WPP agency Outrider.
It was not, by his own admission, an easy or clean process, so what does he make of his challenge? "We are cut from the same cloth. Philosophically and structurally, we are similar," he says optimistically.
Indeed, for those who don't know about Hyper (and there's no reason why you should given that the company has, by Fairhead's own admission, been "shit" at promoting itself), it was formed as a joint venture between Naked and Fallon back in the days when both agencies were still in the ascendancy. Fallon subsequently exited the deal and Hyper became part of Photon, along with Naked.
Hyper has, by all accounts, trodden a solid furrow working on clients such as Cadbury and Nokia, pursuing digitally centric planning. Naked, on the other hand, has been more of a problematic business for Photon - while its UK brand continues to have some residual stardust (and is certainly more famous than Hyper), it has suffered from an apparent lack of positioning.
Given that the industry found it difficult to see whether Naked was still the comms planning agency of its birth, a full-service agency or something in between, it was little wonder that clients couldn't work out what it stood for. Tangible output seemed hard to define, although it did produce the brilliant Alan Partridge campaign for Foster's Funny.
The loss of Ivan Pollard to Coca-Cola at the end of last year was a heavy blow from which Naked was always going to struggle to recover. The managing director, Jane Geraghty, left shortly afterwards - insiders say that she saw the writing on the wall as Photon sought to prop up Naked and rationalise its UK agency portfolio (Hyper only existed in the UK). The two were always destined to become one.
The merger - which sees Fairhead and three of his Hyper cohorts come in and run hypernaked (interestingly, and perhaps in a fit of vanity, they have decided to dilute the famous Naked name by appending their own creation to it) - is actually more of a takeover.
Naked's creative director, the likeable and colourful Jim Thornton, is being replaced by Fairhead's man, Oliver Green, while Chris Green is the only one from the Naked side on the new management team. It sounds quite brutal.
Fairhead, however, doesn't see it that way. He views the merger as a natural progression for both businesses, almost a happy coincidence as digital planning and execution has entered the mainstream, while Naked provides it with some extra clout. "It's a natural progression for Hyper - we've had to look at options and our future," he says. Naked, he says, will add extra comms planning muscle to its existing digital-centric business.
The ambition, Fairhead says, is to make hypernaked an "ideas-driven company" that competes against the likes of Crispin Porter & Bogusky. A laudable ambition and a challenging one given that work is needed to succinctly articulate what hypernaked is - something Fairhead doesn't manage.
Steve Hatch, a former colleague of Fairhead's and the current chief executive of MEC, says that he was always destined to run his own agency and that he will be able to forge something good out of hypernaked's two constituent parts. "Brad's a born leader," Hatch says.
It's a view shared by Laurence Green, a founding partner at 101 who worked alongside Fairhead when he was running Fallon. He claims that Hyper was, in fact, created around Fairhead's skills. "He's an exceptional talent with an unusual mixture of evangelist of the new world while having his feet firmly set in the old world," Green says. He also thinks that Fairhead is capable of filling the charisma gap at Naked, given that Will Collin is the only founder left in the UK.
Engineering the successful merger of the two businesses is only part of Fairhead's challenge, and there are many who think that the entrepreneurial streak in Fairhead will mean this is far from insurmountable for him. A rather bigger test will be recreating Naked's glory days at hypernaked - particularly so given its new name. Being "shit" at talking about what the agency does is now no excuse if it is to get clients to understand, let alone buy into, what hypernaked actually does.
THE LOWDOWN
Age: 41
Family: Girlfriend Nicole, three kids, two dogs
Lives: Belsize Park
Hobbies: Football, cycling, music, mates, kids
Favourite holiday destination: Anywhere skiing
Last book you read: Too busy to read The Time-Crunched Cyclist. Does that count? (If not, it'd be Amexica by Ed Vulliamy)
Mantra: Being from Yorkshire, I probably use "just get on wi' it" a bit too much