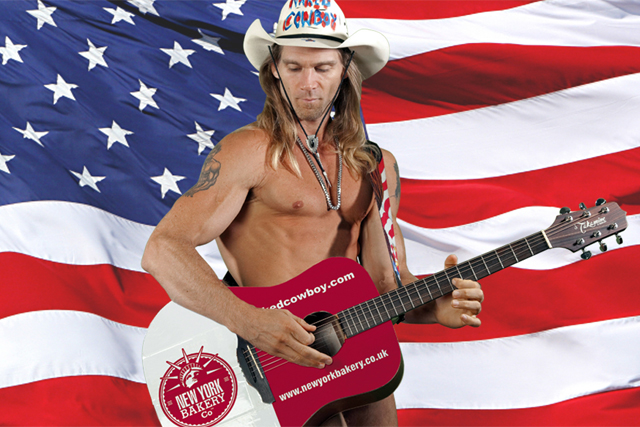 The Naked Cowboy is Robert John Burck, a muscly American street performer who is famous for playing his guitar in Times Square wearing only cowboy boots, a cowboy hat and white briefs.
He will be at St Pancras today from 1pm holding a red and white guitar with the sites www.newyorkbakery.co.uk and www.nakedcowboy.com stamped on its front, along with the bagel company's red and white logo of the statue of liberty.
Press ads have been placed in The Metro this morning to advertise the stunt.
The Naked Cowboy began busking in 1997 and has since made a successful business out of his self-made brand. He owns the trademark to his Naked Cowboy character, which is run out of Naked Cowboy Enterprises, as many people try to imitate his performance.
He has attracted a lot of attention from the media, spawned from previous auditions on American and Australian Idol, and has appeared in a music video for Nickelback's song 'Rockstar'.
Burck has appeared in numerous American campaigns, including ads for Chevrolet and Guinness, and has a range of Naked Cowboy Nutritional products including Naked Whey Protein Powders.