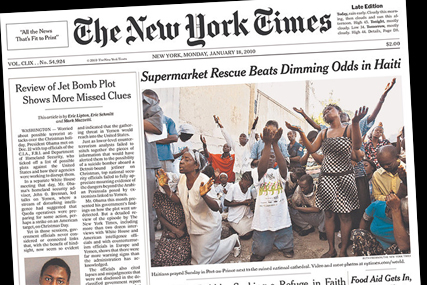 According to several reports New York Times chairman Arthur Sulzberger Jr will announce very shortly exactly what the paper's plans are after a year of discussion and delay.
The New York Times was originally due to make an announcement in the Summer, but no decision came as the paper struggled with deciding which method to adopt.
The metered system it will introduce is reported to allow visitors to the paper's website to read some articles for free, like the FT.com, before they have to start paying.
In the end it has decided to eschew the pay wall system employed by the Wall Street Journal, which is thought to be the direction that the Journal's sister paper The Times in London is also heading in.
New York Magazine quotes a friend of Sulzberger as saying that a final decision could come within days and speculates that the announcement could be made to tie-in with the hotly anticipated launch of Apple's tablet computer on January 27.
The two could announce some kind of content partnership, which has previously been hinted at.
As well as the pay wall and the metered option, the New York Times is reported to have taken a close look at a membership model, which is also being looked at by papers in the UK including The Guardian.
The membership scheme was rejected as being too expensive while the pay wall is seen as too restrictive and denying some readers around the world access on the basis of price.
Another option ruled out according to New York Magazine was partnering with Steve Brill's Journalism Online, which has yet to announce any major partners.
Overtures from News Corporation chief digital officer Jon Miller, who is heading efforts to win better terms from Google or to break away entirely, were also rejected. Miller met with Martin Nisenholtz who is senior vice president of digital operations at the NY Times, but the talks did not lead anywhere.
Nisenholtz is said to have been one of a number of executives who favoured keeping the NY Times free in the belief that the paper would survive the fallout as rival newspapers closed or shrank and as a result end up with more readers and potentially more advertising revenue as the market began to grow again.
However, waiting for online ad revenues to return is something that the paper, like its rivals, can ill-afford.
More on Brand Republic blogs
Guardian editor rules out pay wall