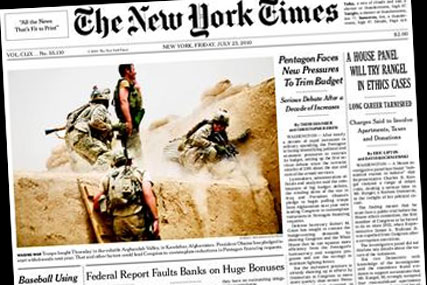 It reported a 1.2% increase in revenue, to $589.6m from $582.7m in the second quarter of 2009.
Advertising revenues were flat for Q2 2010, but the company reported a 21% increase in online ad revenue, offset by a 6% decline in print advertising revenue.
Although operating costs dropped 3.7% to $528m for the quarter, due to a decline in print expenses, they are expected to increase for the third quarter, as a result of the increased spending and other costs associated with the launch of the NYTimes.com paywall at the beginning of next year.
Janet Robinson, chief executive, said: "The company is well-positioned to thrive in the evolving media marketplace, thanks to the significant progress we are making in reinventing our enterprise."
For the second quarter of 2010, internet businesses, which include Boston.com and NYTimes.com, accounted for 16% of the company's revenues, compared to 13.4% for Q2 2009.
Circulation revenue rose by 3.2% due to higher newsstand prices at The New York Times and The Boston Globe.