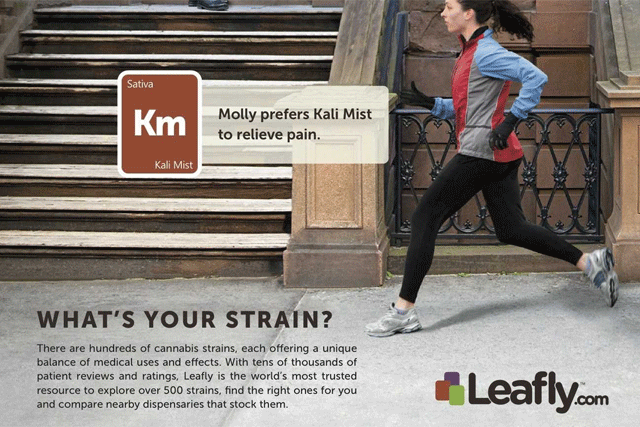 The ad features a woman running past a man stood on the steps of a typical New York apartment block.
It states "Molly" chose a sativa strain of cannabis when suffering from cancer, while "Ian" used indica cannabis to help with his MS.
The copy references the well-used anti-drugs phrase "just say no" with the line, "Just say know."
The state of New York recently passed the Compassionate Care Act, legalising medical marijuana.
The Seattle-based Heckler Associates created the ad and the media planning and buying was by Mediability, which is also based in Seattle. Leafly is itself based in Seattle.
The rapper Snoop Dogg, who regularly mentions cannabis in his songs, tweeted his support for the ad.
times are changn. @Leafly drops first ever full page cannabis ad in @NYTimes http://t.co/qoNlRuO6RD #JustSayKnow
— Snoop Dogg (@SnoopDogg)
August 4, 2014
Leafly provides information for patients using medical marijuana (and recreational users) including details on specific cannabis strains and reviews of dispensaries.