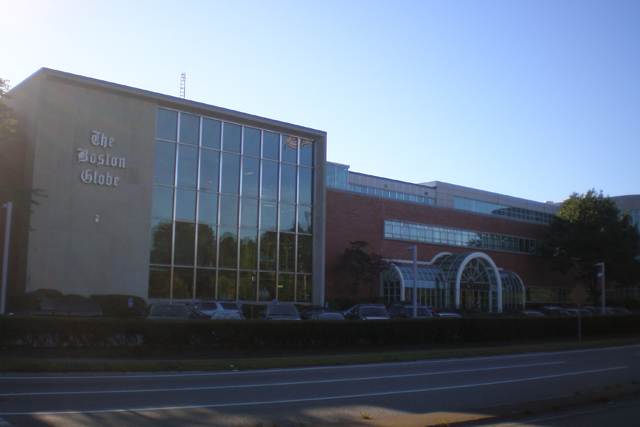 The sale marks the second attempt by the New York Times to offload the Boston Globe having abandoned plans for a sale in 2009 when it also threatened to close the paper unless cost savings were made.
The New York Times, headed by former BBC director general Mark Thompson, will attempt to sell the Boston Globe as part of a disposal of the New England Media Group, which also includes the Worcester Telegram & Gazette.
The decision is the first major one taken by Thompson since he took up the role in November. He said the move demonstrated the Times' commitment to concentrate on "its strategic focus and investment on The New York Times brand and its journalism".
Thompson said: "We are very proud of our association with the Globe and the Telegram & Gazette, but given the differences between these businesses and The New York Times, we believe that a sale is in the best long-term interests of these properties and the employees who work for them as well as in the best interests of our shareholders."
The sale also includes a 49% stake in the Metro Boston and Globe Direct, a direct-mail marketing company.
The NYT Company cancelled plans to sell The Boston Globe in October 2009 after months of hunting for a buyer for the loss-making daily.
Plans for that sale had followed a threat to close the paper in April 2009 unless $20m in savings were found at the Globe, which was on track to lose $85m that year.
Two groups reportedly submitted bids for the paper - one group led by former Globe executive Stephen Taylor, and the other Platinum Equity, an investment firm that bought the San Diego Union-Tribune. The bids were said to be in the vicinity of $35m in cash and the assumption of pension obligations, according to the New York Times newspaper at the time.
The price being offered was a long way off of the sum the NY Times Company bought The Boston Globe for in 1993 when it paid $1.1bn.
Like much of the US newspaper industry, the paper has suffered a steep decline in profits and circulation. The paper's circulation has been cut to nearly half of what it was ten years ago. Its weekday circulation is down from 438,621 in 2002 to 230,351 in September 2012.
Looking ahead the news is no better. US newspaper print ad revenues are expected to drop significantly in the coming years, slipping to $16.4bn in 2016 from $19.14bn in 2012, according to figures from eMarketer.
Digital revenues, which include all digital platforms, will edge up to $4bn from $3.4bn and so will not cover losses from print.

Digital ad spending topped print ad spending in the US for the first time ever in 2012, according to eMarketer, when advertisers spent $37.30bn on internet ads compared to just $34.33bn on print.