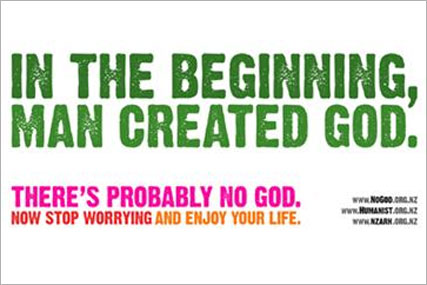 New Zealand's Advertising Standards Authority received a single complaint about The Humanist Society of New Zealand campaign, which deliberately mirrors the British Humanist Association's "There's probably no God" campaign.
The complainant argued that the ads were offensive and made a mockery of the Christian faith. The ASA acknowledged that, while the complainants concerns were sincere, the ads did not contravene standards.
The single complaint contrasts starkly with the 392 complaints that its British counterpart received. The UK ad was a riposte to a bus-side ad by The Christian Party which told consumers that "There Definitely is a God".
The latter won the dubious honour of becoming 2009's most complained about ad.

The Humanist Society of New Zealand produced three billboard executions, all featuring the British Humanist Association's "There's probably no God" slogan.

The top of the posters used lines including "In the beginning, man created god, there's probably no god, now stop worrying and enjoy your life"; while another said: "We are all atheists about most gods, some us just go one god further".
The New Zealand's humanist campaign kicked off last month on three billboards in Auckland, three in Wellington and two in Christchurch.
Iain Middleton, the society's president, told Campaign that the ads were inspired by the British campaign.
He said: "We originally raised money for a bus campaign and got twice the amount of money that we intended."

But Stagecoach, the British-owned bus company "decided not to run them because of complaints from the public and its own drivers".
In spite of Christian opposition to the campaign while the society was raising funds, fuelled in no small part by a visit to New Zealand in March by atheist academic Professor Richard Dawkins, it has so far only drawn a single complaint.