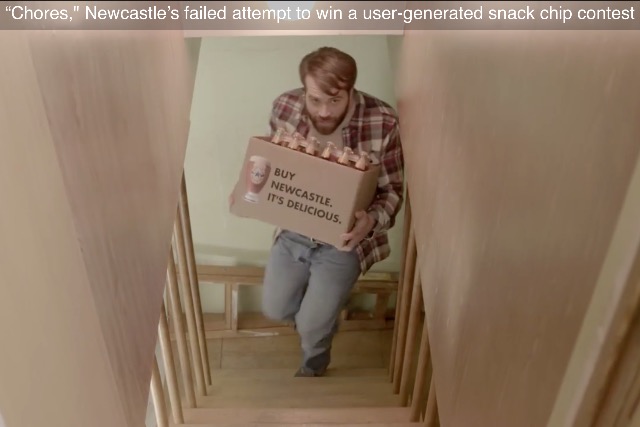 The irreverent beer brand has posted the deliberately clunky ad online, after it sadly failed to make the grade and Doritos' Crash the Super Bowl shortlist.
The 40-second "(un)official snack chip contest submission" is called 'Chores' and features a deliberately laboured narrative. It opens with a bearded protagonist rooting through a kitchen cupboard and shouting out to his wife, "Have you seen my [bleep bleep] chips?"
"Try cleaning the fridge," she suggests. The fridge, it transpires, is stuffed full of bottles of Newcastle Brown Ale. He tries the basement, garage and even under the sink, but alas no nachos or tortilla chips, just more bottles of brown beer and some far-from-surreptitious Newcastle branding.
The ad ends with the line: "The Newcastle Brown Ale of Snack Crisps".
If you're as confused as much as we were by the convoluted meta ad, then an explanation (of sorts) is at hand in the guise of a 'Behind the scenes' short on YouTube, in which Newcastle Brown explains its strategy - how it could not afford the $4m price tag to advertise during the Super Bowl.
"So when a certain snack chip brand offered to to air one lucky fan's big game ad for free," the voiceover explains, "we made a Newcastle ad perfectly disguised as a user-generated snack chip ad."
The making-of film goes on to deconstruct 'Chore', pointing out the bad direction typical of a user-generated spot, highlighting Newcastle Brown Ale's product placement and explaining how the spot ends "with a joke that combines broad comedy with mild chauvinism big game viewers will love."
Company: Heineken USA
Brand: Newcastle Brown Ale
Agency: Droga5
Read next