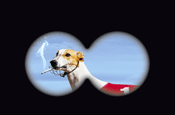 The campaign, which run with the strapline "We know something you don't", comprises three executions which convey the insight and humour contained in the title's editorial.
The ads take an unusual slant on different sports as spied by someone peering through a pair of binoculars.
The first ad shows a greyhound smoking a cigarette, the second reveals a shortsighted snooker player and the final execution portrays an unhealthy horse tucking into a bucket of fried chicken.
City AM launched 20-page
The Punter
in January as an additional supplement to appeal to its audience of city-based professionals. It is published with the newspaper every Friday.
Newhaven is based in Edinburgh.
CreditsProject:
The Punter - UK Launch
Client
: City A.M.
Brief:
Launch The Punter as the title that gives its readers the edge on weekend betting opportunities.
Creative agency:
Newhaven Communications
Writer:
Chris Watson
Art director:
Rufus Wedderburn
Planner:
City AM In-house
Media agency:
City AM In house

Media planner:
City AM In house
Photography:
Euan Myles, Robbie Smith & Victor Albrow.
Exposure:
Press