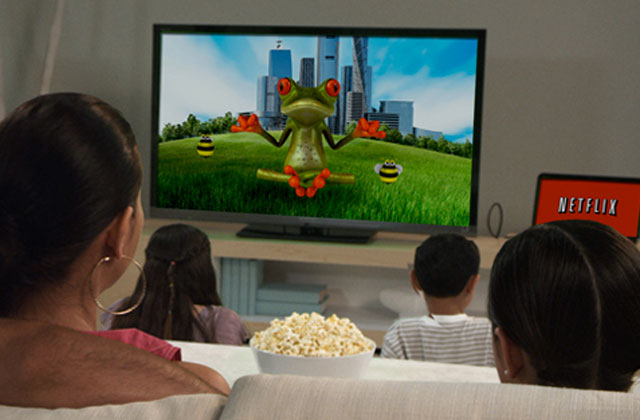 The oft-quoted "content is king" media mantra came into sharp focus this week with yet another launch into the online film streaming market, as Netflix booted up for movie fans in both the UK and Ireland with a high-profile television advertising campaign.
Entering into what is already a crowded market, with Amazon's LoveFilm as one of the most recognised brands and Sky, Virgin Media and BT also offering film downloads, the US-backed service is arguably taking a huge gamble in a market that saw the online television streaming service SeeSaw collapse following a high-profile launch and a spectacular fall from grace.
Netflix, which has an estimated 20 million members in 47 countries and includes film content from 20th Century Fox, BBC Films and Disney.
It launched with a price bracket of £5.99 in the UK (€6.99 in Ireland) for unlimited film and selected television downloads from producers including the BBC, CBS, 4oD and ITV.
The burgeoning UK offering will be backed by a high profile advertising campaign across television and online platforms that will offer potential customers the chance of a free month's trial, which will be available "on a range of upcoming TVs, Blu-ray players and other devices", according to Netflix.
Connected consumers
Graeme Hutcheson, associate director in the futures and implementation team at MediaCom thinks that targeting a key audience of home users with next generation audio visual equipment will take priority over mobile devices, certainly for the immediate future.
"I think that the primary audience for Netflix will be those with connected televisions, and the service will be about pushing that viewing experience to the 42-inch plasma in the corner of the living room," he says. "I think that tablets are another connected option that people will use, but we have yet to see a massive surge in people watching downloaded films on tablets."
However, he has no doubt that the on demand market is one that will continue to attract investment, and suggests there will be further launches into the UK market. "There I no doubt that in this space there is a big potential and a hotbed of activity.
"So over the last 18 months, we have had LoveFilm receiving huge financial backing from Amazon, and almost in reaction to that Blinkbox receiving the same kind of backing from Tesco and those two, from an on demand perspective, have really good footholds in the market.
"Netflix has had huge success in the US, and there is something like 500,000 people 'cutting the cord' last year in America, in other words cutting off their dish, or cable subscriptions and deciding not to pay a large monthly subscription fee."
Stewart Easterbrook, chief executive of Starcom MediaVest Group welcomes the introduction of Netflix into the on demand realm, stating that more competition is healthy in a burgeoning market.
"It has to be good for both advertisers, their agencies and consumers, as it creates a healthy competition in the market," he says.
"Netflix is, undoubtedly entering an already crowded market, but I really don't think it is the end of entrants into this sector. Some will thrive and some, simply won't, but overall its good for media."
However, talking to those involved in the on demand world, you realise how precarious the industry can be, with at least one agency source suggesting, "for every Blinkbox, there is also a Joost," bringing up the subject of the internet television service launched in 2007 to much fanfare that has, arguably, slipped of the radar of late.
Taking on the broadcasters
Netflix has stated that its ambition is actually to take on the larger players, pointing its guns at broadcasters including Sky and Virgin Media, and surpassing LoveFilm.
Joris Evers, spokesman for Netflix, sets out the company's ambitions, "We started in Canada in 2010, then moved to the US and then launched in the Latin American region in 2011, and are now moving on to the UK and Irish markets.
"At Netflix we really don't see our competition as services like LoveFilm as that is still based very much around the DVD format. We are looking to compete with the premium film channels offered by carriers like Sky."
However, whether projection figures are commercially sensitive, or the on demand platform is taking more of a "wait and see" approach, no end of year figure is put forward.
"I wouldn't want to put a figure on what sort of [subscriber] figures Netflix would expect after a year in the UK and Ireland markets, but we would like as many people as possible to come and use test the free month's subscription the site is currently offering."
The claim that the Netflix target competitor is either Sky or Virgin Media is one that Hutcheson puts down to launch exuberance.
Hutcheson says, "The UK market is very different from the US in terms of television, as we do have a large public sector broadcaster and you have Sky and Virgin Media with two very strong propositions that are not going to fade away with the introduction of and online movie demand service.
"Sky, for instance, really put a stake in the ground decades ago that they were the number one for movie distribution in the UK and that will remain, they will always have a better relationship with the studios and are in 15 million homes, but that's not to say that a broader choice for the consumer isn't a good thing, it is."
There can be only one
Adrian English, head of broadcast at Carat, thinks that media owners with direct access to their own content are the real winners in video on demand, and that there is minimal space in the market for an online platform that works independently of content providers and has to negotiate deals with broadcasters or studios.
"Those who can provide their own content are undoubtedly in a better position than those who don't directly control the content," English says. "I think there may be room for one independent video on demand supplier in the market, but we will have to see who that is."
As Netflix unveiled this month that 20 million subscribers watched more than two billion hours of TV shows and movies on devices with high-speed internet connections during the final three months of last year it could be argued that with heavy US backing, this on demand platform has a better chance of being that one independent platform than most.
Follow Mark Banham on Twitter @Banham72