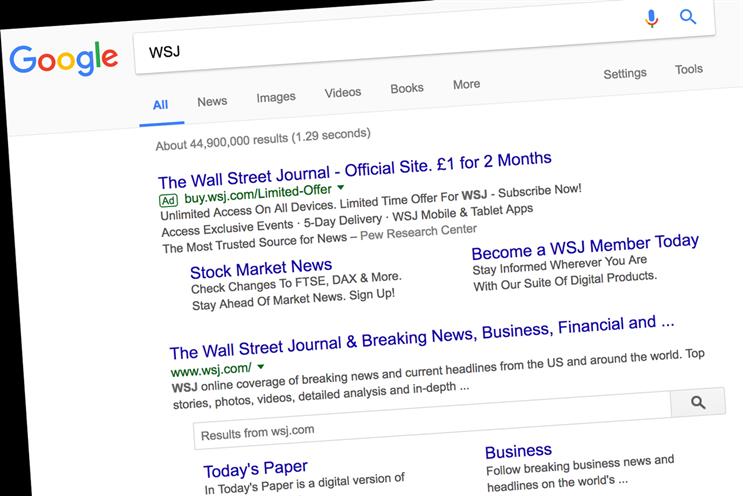 Robert Thomson, the chief executive of News Corp, said the publisher was adding the WSJ's case to an existing complaint that it and others have made against Google about what he called "the blatant abuse of its search monopoly".
Google is facing three investigations by the EC amid reports that regulators could impose a €1bn fine on the search giant as part of a long-running investigation, according to the Financial Times.
Thomson, who spoke at London Tech Week, said the WSJ had seen a 94% plunge in referrals from Google News after the newspaper withdrew from One Click Free, a Google service that allows subscription news sites to offer one story for free a day to readers.
News Corp felt the service wasn't the most effective way to drive revenues and subscriptions.
"The Wall Street Journal has been punished by Google," Thomson said of the subsequent plunge in referrals by Google News.
Thomson played down a question about whether the WSJ's treatment might be linked in some way to sister paper The Times' investigation into brand safety problems on Google's YouTube earlier this year.
He said if there were any evidence of "absolute victimisation" – if hypothetically Google had undermined someone who had criticised or complained about the company – "then clearly that's going to get them in serious, serious trouble".
Thomson said he thought the WSJ was facing a broader "secular" problem in common with other news sites about the power and whim of Google's algorithms.
Even so, he said News Corp did receive what he called "a veiled threat every now and then from Google". Asked to explain what he meant by a veiled threat, he said: "I'll keep a veil over that."
Google declined to comment on Thomson's speech. However, a source close to Google strongly rejected any suggestion that it would distort search results or behave in an anti-competitive manner.
Thomson's speech was called, Privacy, Piracy, Provenance and Profit – Dueling with the Duopoly. In it he focused on what he said was the unhealthy power of Google and Facebook's algorithms in deciding what content is seen by consumers.
"There is a hierarchy of content – some news stories are more meaningful than others, some are better sourced than others – but in a horizontal world, the flat earth ethos of distribution companies, qualitative distinctions are diminished and the incentive to fabricate the fake rises exponentially," he said, in a reference to fake news.
"That will not change until Facebook, who are confronting the issue, and Google, who are not, recognise the relative value of premium content."
He said he has been talking to Facebook founder Mark Zuckerberg about how Facebook can support news publishers with paywalled content on the social media site.
"We are involved in an advanced discussion with Facebook about the creation of a subscription mechanic that would benefit news organisations and journalists," he said.
He added that advertisers and agencies "need to be very conscious of their role" in the digital media supply chain, which was meant to be "a very measurable, metric-based world" but had become a "world of advertising ambiguity" because of flawed metrics and inappropriate content.
He warned against "the ultra-trendy CMO" who has got "slightly sucked in by wanting to be the smartest person in the room about digital".
He said there needs to be an industry-wide debate about "What's the role of digital advertising? What's the role of the ad agency, What should the focus of the CMO be?"