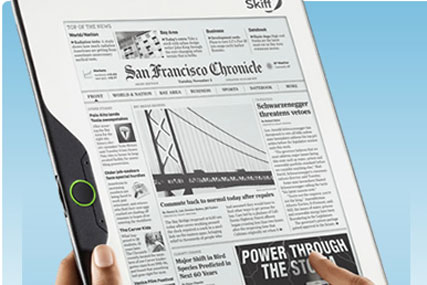 The acquisitions are the latest move by Rupert Murdoch's News Corporation to charge readers for its online content.
News Corporation purchased e-reader content platform Skiff from US publisher Hearst.
It also purchased a minority stake in paid online content venture Journalism Online, which was co-founded by Gordon Crovitz, former publisher of the News Corporation-owned Wall Street Journal.
No financial details of the deals have been disclosed.
Jon Miller, chief digital officer at News Corporation, said: "Today's developments underscore News Corporation's ongoing commitment to create strong business models that support journalism at a time of great change in our industry."
He added: "Both Skiff and Journalism Online serve as key building blocks in our strategy to transform the publishing industry, and ensure consumers will have continues access to the highest quality journalism."
Skiff helps publishers deliver journalism to tablets, smartphones and e-readers.
Skiff was expected to launch an e-reading device, similar to Amazon's Kindle and Sony's Reader, last year. News Corp has not acquired the device, which remains the property of Hearst.
It is thought that News Corp's main interest in Skiff, which specialises in delivering enterprising layouts for newspapers and magazine content, is as a publishing platform, and that it does not plan to launch an e-reader.
This month, News Corp's newspaper company, News International, will start to charge readers for access to The Times and The Sunday Times websites.
Read more on Brand Republic's digital blog The Wall
News Corp deepens paid content investment as it buys Skiff and stake in Journalism Online