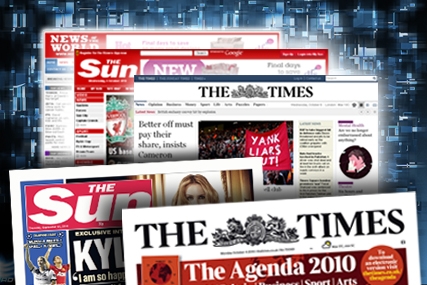 MediaWeek can reveal that the Rupert Murdoch-backed project is due to be unveiled before the end of 2010, following a year of development.
The name of the project cannot be confirmed, but it will involve aggregating content from News International's core print titles –The Times, The Sunday Times, The Sun and News of the World – in addition to offering third-party content from rival publishers.
News Corp executives have been involved in discussions with a number of publishers in the UK and US about a possible news consortium, believed to be related to the launch.
The new platform will also carry advertising and sponsorship opportunities that are currently being pitched to UK media agencies.
The former managing director of thelondonpaper, Ian Clark, is believed to be leading the project, alongside News Corp's digital tech specialist, Johnny Kaldor.
The new platform was initially planned to launch in November, but it is believed this now risks being put back as deals with publishers and blue-chip advertisers are still being finalised.
A source said the publisher was clearly looking to create a "wholesale model" for its news, but wanted to establish a "news retail" price first, through its paywalls.
The service will harness all digital platforms, including iPad and phone apps.
The latest digital development at News Corp follows the erection of paywalls at The Times and The Sunday Times sites, set to be joined by the News of the World this month.
A News Corporation spokesperson declined to comment.