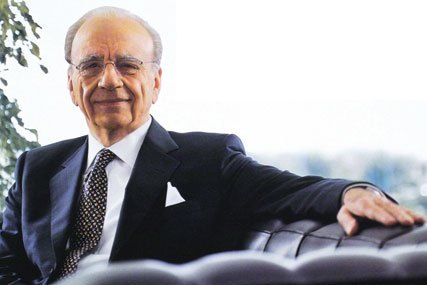 The company's UK and Australian newspaper division reported a 20% year-on-year rise in fourth quarter operating income, signalling a turnaround in the advertising market.
The unit posted operating income of $115m (£74m) for the three months until June and $530m (£335m) for the full year.
The UK newspaper group, which includes The Sun and The Times, grew advertising revenues by 15% in the fourth quarter, and benefitted from lower newsprint costs.
The division housing the social networking concern MySpace suffered increased losses, which were ascribed to lower search and advertising revenues at MySpace.
It made a $174m operating loss in the fourth quarter, up from $136m in the same period in the previous year.
However, this was little in the context of News Corp's overall revenues for the year of $32.8bn, up 8% on 2009.
The turnaround was partially driven by the performance of Filmed Entertainment, which includes cable assets 20th Century Fox Television and the 20th Century Fox film studio, which benefitted from the record box office performance of James Cameron's sci-fi fantasy 'Avatar'
Filmed Entertainment recorded an annual operating income of $1.35bn, up 59% on the previous year.
The company's satellite television division took a knock due to Sky Deutschland, the German broadcaster, in which News Corporation has a 45% stake. It has warned on profits and has sought a $450m refinancing deal for its shares.
Reports today suggest that News Corp is opposed to increasing its offer to take full control of UK satellite TV broadcaster BSkyB.
News Corporation chairman and chief executive Rupert Murdoch, said: "Despite the volatility of world economies, News Corporation continues to thrive on a truly global scale. Having the biggest worldwide movie in history helped us achieve these Fiscal 2010 results, but that was just a part of a much broader improvement at News Corporation.

"These results underscore just how well positioned we are fiscally, operationally and strategically for further growth across all of our markets.
"The opportunity for us to expand the scale of our franchises is significant, including through taking advantage of the continual technological advances that will broaden the reach of our core content and distribution businesses.

"So as we turn to Fiscal 2011 and beyond, I am confident in our businesses and in our people to deliver superior results."
Read more on Brand Republic
As MySpace haemorrhages money – can News Corp turn its social networking strategy around?