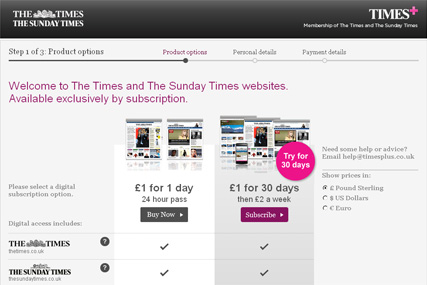 Online readers will be required to pay for access to www.thetimes.co.uk and www.thesundaytimes.co.uk in an epoch-defining attempt to monetise everyday news content.
The controversial move to shift editorial content of the quality newspaper brands behind a paywall follows a monthly free-trial period for registered users.
The new-look sites launched on May 25, replacing times online, which housed content for both brands.
Rebekah Brooks, chief executive of News International, said: "We have been very pleased with the response from readers since the launch of the new websites for The Times and The Sunday Times in May.
"We believe the new sites offer real value and we look forwards to continuing to invest and innovate our readers."
Access to the site's content will now be available for a charge of £1 for a day's access or £2 for a week's access.
As an incentive to sign up more customers, News International is offering access to both sites for a one-off charge of £1 for the first 30 days.
Access to the sites is included in the seven-day subscriptions of print customers to The Times and The Sunday Times.
The iPad editions of the brands will continue to be charged seperately.
The move behind the paywall follows the disclosure that the market share of The Times and The Sunday Times websites has nearly halved since News International introduced a registration wall and separate sites the two titles, according to Experian Hitwise.
News International is bracing itself for a significant drop of in its digital users following its move to charge for its online content.
Sunday Times editor John Witherow forecast that the move behind the paywall could mean the sites losing more than 90% of its traffic.
Times editor James Harding has also disclosed that the sites would lose a considerable number of unique users, but claims that it will grow its regular reader base.