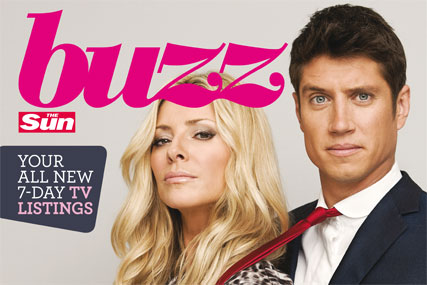 The magazine, revealed in July, will replace TV Mag, which is to be phased out.

The launch is to be backed by a series of star-studded ads, including appearances from television stars Bruce Forsyth, Denise Van Outen, Louie Spence and George Lamb.

Buzz will be free with The Sun on Saturday and will feature television news and big name celebrity interviews, alongside fashion, food and home pages and a revamped listings section.

News International described the launch as the "most significant magazine development for The Sun's Saturday offering since TV Mag was created from the original Sun TV Super Guide in 1998."

Jane Johnson, The Sun's associate editor who launched Closer magazine and News of the World's Fabulous magazine, is leading the project.

She said: "We'll feature a unique take on all the top shows from the X-Factor to Emmerdale, from the Apprentice to the Inbetweeners. Plus, Buzz will be shopping heaven - our lifestyle pages will be filled with what's new in fashion, beauty, home and food. If it's hot, you can be sure it'll be in Buzz!"

A series of TV and outdoor ads directed by top comedy director Bryan Buckley - made famous by his work on Orange's cinema campaign - will feature a star-studded cast of TV personalities in a stately home.

The Sun's marketing director Barnaby Dawe, said: "Buzz will take everything that's great about the TV and entertainment world and bottle it into a fantastic weekly read - and we've come up with a marketing plan to match."

The Sun launched a perfume also called Buzz earlier this month, working with parfumier Roja Dove to bottle the scent of entertainment.
This was promoted via two scented billboards outside Harrods and currently retails at £59 a bottle.

A series of 30 and 40 second ads will hit screens today (Monday) and the campaign will continue for 12 weeks.

The campaign was created by WCRS, with media planning and buying by Mindshare.