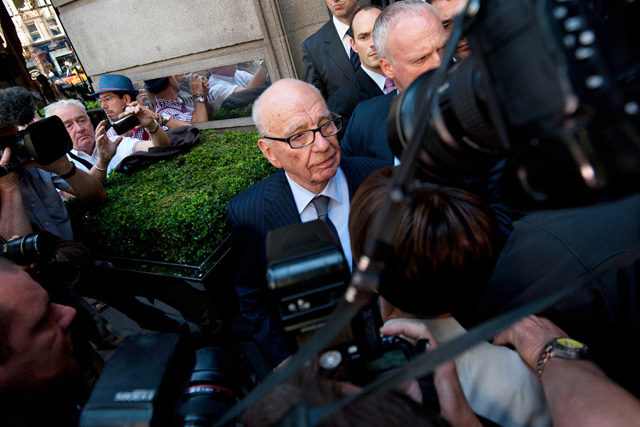 When Malcolm Gladwell wrote his book Tipping Point in 2000, it was pre-social media. The News of the World tipping point played out in a social media world. Peer pressure is fanned and fuelled in this oven, especially when the biggest users of social media are agencies, journalists, celebrities, political lobbyists and the media themselves.
1. On 4 July, the Guardian piece on the hacking of Milly Dowler's phone tipped. The UK's largest Sunday paper, News of the World, would close, and an estimated £38 million of annual ad revenue, a circulation of 2,667,428 and 200 jobs would go with it. Resignations, arrests and public inquiries spring up daily.
2. The 2,806,746 circulation of The Sun and its 7.6 million readers had a high duplication with News of the World. The logical way to fill the gap is by launching the rumoured Sun on Sunday. The hacking scandal mutated publicly to include News International and its management. Cynicism is high. To get someone to buy a copy of a future Sun on Sunday, or place an ad in it, means getting them to resist immense peer pressure to do the opposite. Simple logic became a hard ask in a matter of days.
3. Reach of an audience over a week or a day has always been a driver of budget levels and how plans are constructed. If reach goes down, and there is no big title replacement, it is unlikely advertisers will spread the same money around more titles at the same prices. They are likely to spend less in Sundays and the national press.
4. News International, and then News Corp, adopted a "firebreak" strategy in an attempt to starve the crisis of fuel in the forms of closures, resignations and public apologies. To date, it doesn't seem to be working. Some £2.4 billion was wiped off Sky's value, and News Corp shares were down 14 per cent in two weeks.
5. At the time when the Dowler story broke, there were roughly 6.1 million users of Twitter in the UK and 200 million globally. A social media campaign arose to persuade brands that used News of the World to boycott it. By the 6 July, more than 25 per cent of conversations on Twitter mentioning News of the World keywords also mentioned one of the targeted brands, many of which then publicly withdraw their advertising.
6. It now becomes difficult for these advertisers to do a U-turn when they have publicly attached their brand message to a statement of beliefs about a media owner. A reversal in their decision puts their brand reputation in a social and media spotlight.
7. If News International becomes further embroiled in this saga - and the arrest of the former chief executive Rebekah Brooks suggests that it might - the decision for an advertiser to pull out of News of the World, while remaining in another News International title, becomes more difficult to justify publicly. The pressure that can be exerted by social media may shift to removing ads from other News International titles.
8. News Corp has a minority stake in BSkyB. With the News Corp takeover called off, BSkyB has more distance in an advertiser's mind. If the name "Murdoch" is seen as a drag on the company's reputation, the shareholders, not the advertisers, are likely to be the ones to change it.
9. BSkyB's business model is heavily based on subscription (rather than ad) revenues. There is little benefit to advertisers or consumers in talking up pulling out of Sky. Not buying The Sun is easy, but Sky's audience ties are harder to break. Moving from Sky has more complicated implications, especially if you like live sport.
10. The rise of digital and social media has been a major factor in the decline of Sunday newspaper sales. According to the most recent Audit Bureau of Circulations figures, the red-top Sundays were down 6.4 per cent and the quality Sundays down 8.2 per cent year on year. Research from Enders Analysis states that two-thirds of News of the World readers will never pick up a Sunday again. If this is the case, this isn't just a blip in where the money is spent in newspapers, but the acceleration of a bigger trend in how people get and consume news.
Mark Palmer is the founder of the consultancy Maverick Planet
WHAT IT MEANS FOR ...
News International's rivals
- Early indications are that News of the World's demise has led to an early boost in sales for its Sunday rivals, though by nowhere near the 2.7 million sales that the red-top commanded.
- Reports have suggested impressive sales increases for the Daily Star Sunday, up by around 100 per cent after it introduced a new package, with The People and Sunday Mirror adding 40 per cent and 60 per cent to their circulations. The Mail on Sunday is also expected to have benefited, taking its sales beyond the two-million mark.
- However, research indicates that less than a third of News of the World readers intend to regularly buy another Sunday paper, raising the possibility that Sunday sales of national newspapers will fall overall.
- In a very small way, rival newspaper owners have benefited from the ads taken out by News International to apologise for its mistakes. The sense of schadenfreude in some rival sales departments must have been palpable.
Advertisers
- Advertisers who have pulled out of News of the World may consider pulling out of other News International titles as the crisis intensifies. Those that have pulled ad campaigns may find it difficult to return due to the public pressure that has been placed upon them via social media campaigns.
- Certain retailers and brands will miss the sales generated by advertising in News of the World, but it seems unlikely they will simply switch their spend to rival titles.
- Some advertisers used News International's problems for their own gain. Ryanair ran a press campaign featuring a picture of Rebekah Brooks alongside the line: "I'm outta here with Ryanair." Virgin Media chose to highlight Rupert Murdoch's interest in Sky in its TiVo box campaign.