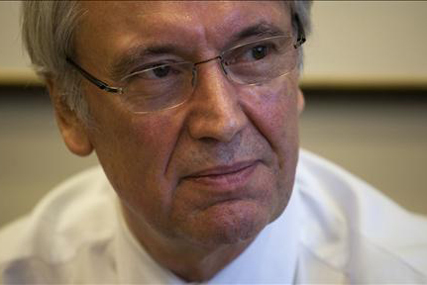 Dow Jones president Todd Larsen will take over Hinton's responsibilities and report to News Corporation deputy chairman and president and chief operating officer Chase Carey.
At the time of the alleged phone hacking at the News of the World, Hinton was executive chairman of the newspaper's parent company News International. He has been one of News Corporation chairman Rupert Murdoch's key generals for 52 years and has led Dow Jones since December 2007.
Hinton spent 12 years at News International. Prior to that, he spent 20 years working in the US for News Corporation, first as a correspondent for the company's newspapers in the UK and Australia and later in a series of senior management positions at News Corp's publishing and television business units.
His decison to step down from his post follows the resignation of News International chief executive Rebekah Brooks. Reports now suggest that Brooks will receive a £3.5m settlement package from News Corporation.
Hinton stated that he had, "watched with sorrow from New York as the News of the World story unfolded."
He added: "I have seen hundreds of news reports of both actual and alleged misconduct during the time I was executive chairman of News International and responsible for the company.
"The pain caused to innocent people is unimaginable. That I was ignorant of what apparently happened is irrelevant and in the circumstances I feel it is proper for me to resign from News Corp. and apologise to those hurt by the actions of News of the World."
In a statement Hinton said that when he had left the News International in December 2007 he believed that the "rotten element at the News of the World" and that that important lessons had been learned; and that "journalistic integrity" had been restored."
He said that his "testimonies before the Culture Media and Sport Select Committee were given honestly" and that he believed that Clive Goodman, former royal editor and reporter for the News of the World who was jailed for four months in January 2007 for intercepting mobile phone messages from the Royal Household had "acted alone" and that the conduct had not spread any wider than this one individual journalist.
Since then, allegations have been leveled at the News of the World that staff on the paper had hacked into the mobile phones of several celebrities and the voice messages of murdered schoolgirl Milly Dowler.
However, in the statement, Hinton also declared his innocence of knowledge about further cases of the practice at the News of the World: "If others had evidence that wrongdoing went further, I was not told about it," he said.
Hinton added: "Finally, I want to express my gratitude to Rupert for a wonderful working life. My admiration and respect for him are unbounded. He has built a magnificent business since I first joined 52 years ago and it has been an honor making my contribution."
Murdoch said: "Les and I have been on a remarkable journey together for more than 52 years. That this passage has come to an unexpected end, professionally, not personally, is a matter of much sadness to me.
"On this difficult day we should appreciate that his extraordinary work has provided a platform for the future success of Dow Jones. And his great contribution to News Corporation over more than five decades has enhanced innumerable lives, whether those of employees hired by him or of readers better informed because of him.
"News Corporation is not Rupert Murdoch. It is the collective creativity and effort of many thousands of people around the world, and few individuals have given more to this company than Les Hinton."
On Wednesday (13 July) News Corporation pulled its bid for UK satellite broadcaster BSkyB in the wake of public and political opposition to the proposed takeover in light of allegations of phone hacking by NotW.