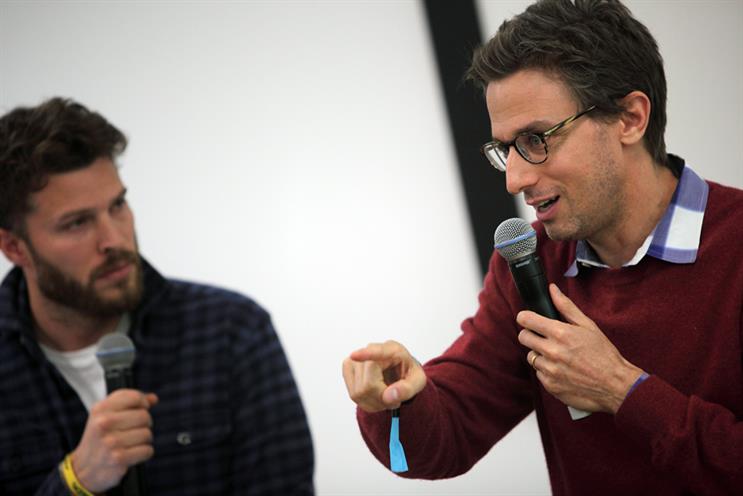 When you hear that the BBC's staff has been told to be 'more like BuzzFeed', you know BuzzFeed has really made it. That's if five billion monthly content views wasn't sufficient confirmation that this Buzz is lightyears ahead of its media contemporaries.
In the most oversubscribed sessions of the day (not even floor-sitting room left by the time the Huddle started), founder and CEO of BuzzFeed, Jonah Peretti (@peretti) spoke to broadcaster and writer Rick Edwards about how BuzzFeed has blossomed, with its success rooted in an understanding of how electronic media interacts most successfully with human beings.
"So, how did you go from being a cats website to where you are today?" asked Edwards.
"First of all, more cats," said Peretti. "But now, we're about a lot of other things too: investigative journalism, news stories, lifestyle content. One of our most popular areas is food videos. Originally, we were looking at how do you make things that people share? How should the media itself operate in a world where the audience decides what's a big story, not the company telling the story?"
Peretti said that BuzzFeed grew because the 'bored at work' network was becoming bigger than any media network. "Now we have video content that's scripted and unscripted, we have micro studios in London, Mumbai, Australia… What started as a website is now a cross-platform global network."
Peretti said that the UK and Brazil are two of the most exciting territories for BuzzFeed right now. "The UK because experiences like the unique sense of humour offer a fresh perspective and yet they export well to the US. Brazil because you have a vast country which has its own very different culture. We learn a lot about new ways to do things elsewhere from the ways they make things work in Brazil."
This inevitably led the conversation on to translation. Not only getting the words right in different languages but how a story can work when local goes global. Peretti cited one of his recent favourite stories, about a German University where messages on a lab door turned from a few students letting off steam about the lack of progress on getting a door fixed turned into something truly 'memetacular'. (See the story here).
'Something that 15 years ago would have been a joke between a handful of students becomes a global story,' because it's the kind of story anyone can relate to.
It's not all clever notes on walls, though. Peretti identified solid news reporting as vital to the company. 'A single reporter can have so much impact on the world if they get the right news story. The return on investment given the impact of a big news story is well worth it. Beyond the story's own significance, it's also good for the reputation of the company and simply, it attracts returns visits as we follow that story's progress.'
But, asked Edwards, how does the company measure success? Peretti believes it's not just about being judged against one or two simple metrics. "All metrics – impressions, clicks, sharing, [dwell] time – are imperfect. We regard success as posting a food video that we see people actually trying and saying it tastes good.
"Or success is when a story about sexual abuse in a school results in official action being taken. We do track specific annual campaigns (like the Clean Eating Challenge) but it's hard to fully automate that. So we look at those kind of stories and how they are taken away by the audience and exist elsewhere on Facebook, Instagram etc, and then we look at how they performed against the imperfect metrics and we see if we can start to identify patterns.
"I'd call what we do, acting with 'humble confidence' – we believe in what we're doing, but we don't presume it's going to work. We give it a try and see what happens."
Asked where he sees BuzzFeed going next, Peretti kept it simple. "I regard BuzzFeed as a kid. It's not fair to say 'when you grow up I want you to be a lawyer', you just have to see what that kid grows up to be."