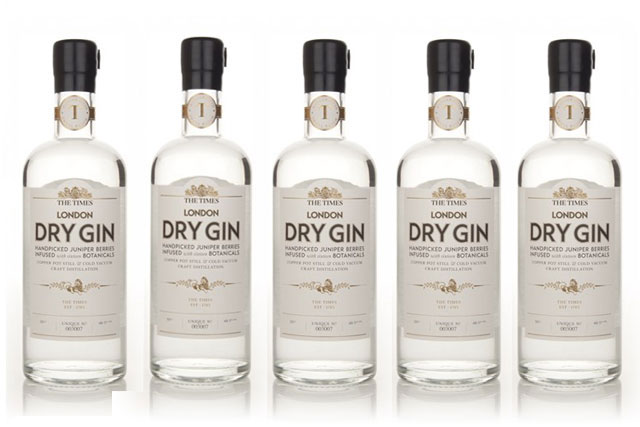 Reported to be have been made in "very small batches to a unique recipe", this is the newspaper's first foray into an exclusive own-label drinks offering, backed by News UK.
It coincides with a revival in gin as the drink of choice, with a growing awareness of the importance of high-quality ingredients and craft distillation.
Manufactured in partnership with Master of Malt based in Tunbridge Wells, Kent, the 70cl bottle will retail at £34.95. However, a special launch price of £29.95 is on offer on News UK's timeswhiskyclub.com ahead of the festive season.
The botanicals used in the base of The Times London Dry Gin are: juniper, coriander, Orris root, liquorice root, Angelica, Cassia bark, cinnamon, dried lemon peel and dried orange peel. Then, a cold-distilled mixture of fresh zests are added – lemon, orange, lime and, more unusually for gin, white and pink grapefruit, clementine and pomelo.
The bottle itself is being pitched by News UK as, "a stylish addition to the Christmas cocktail cabinet", with each individually-numbered label created by The Times' designers, featuring the royal crest, along with The Times lion resting on juniper branches.
The reverse label quotes John Walter, the founder and proprietor of The Times, who said: "A newspaper is like a well-covered table, it should contain something suited to every palate."
The bottle stopper is made from solid wood and natural cork and is wax-dipped, with the Times 'T' stamped on the top.
The launch comes as The Times continues to develop a "club-like" mentality among its readership, following its digital move behind a paywall in 2010 and the formation of the Times+ membership.
Times+ members are offered the opportunity to attend events, discount offers and extras including complimentary film screenings, private views and expert talks.
John Witherow, editor of The Times, helped to promote the tipple, calling it "a fantastic blend with a unique taste", noting it is being made available through The Times' "wonderful Whisky Club".
The gin represents the latest extension trialled by a newspaper, as publishers look to leverage their brand reach and databases.
This summer, The Guardian launched its Guardian Coffee venture in London, which it described as "a single-site operation, which is both a coffee shop and a space for journalists to work in".
The Times' latest foray follows in the footsteps of the Spectator magazine, which has produced Spectator Gin – made by distillers Master of Malt – for some time, and sells it alongside a range of branded merchandise, including greeting cards and wine coolers.