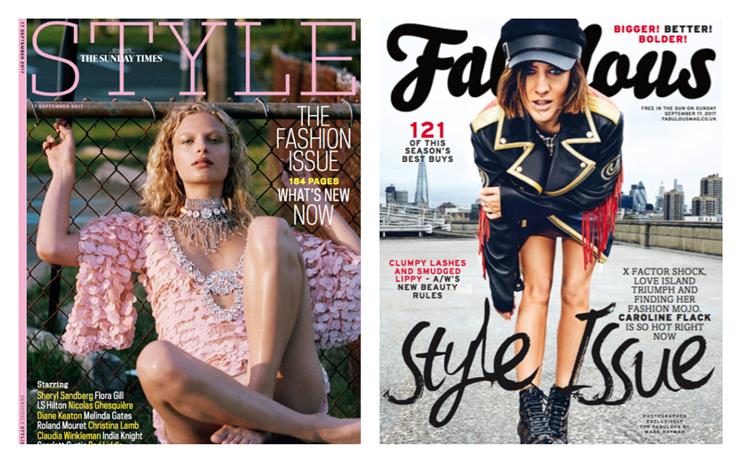 Style is being given a "digital-first approach" with "Seven days of Style", which will offer content on website, tablet, mobile and social media through Instagram and Pinterest.
The weekly print glossy Style supplement in The Sunday Times is also getting a redesign.
News UK poached Elle editor Lorraine Candy to edit Style, which News UK wants to reposition as a more upmarket magazine aimed at luxury advertisers.
Meanwhile Fabulous, the Sun on Sunday fashion supplement edited by Sinead McIntyre, will also be given a new "brand-safe" zone on the sun.co.uk website along a redesigned print magazine in a larger size.
The Sun is also launching Fabulous Daily, a section in the daily Monday-Saturday newspaper, with a push on social media promoting the "Fabulous every day" brand positioning.
Dom Carter, chief commercial officer at News UK, told Campaign the changes were being made to satisfy a demand from advertisers that "want media to interact with a brand and to interact across all platforms".
"Fabulous is getting consistency around the brand proposition that appears in paper and every day. If you have a such a strong brand, you should carry it through every day. It's good for reader engagement but also encourages us to have a dialogue with advertisers that becomes a media proposition. Style is pretty much the same…. Will it allow us to do different things in time? Yes of course, as we learn more about how to deliver more for them."
However, Carter said there are limits to what the brands will try to do on social media: "If you're Snap you'd be quite conscious of not having too much clutter. I'm not sure on the platform whether they'd want a lot more, but we're in conversation with Snap. As we continue to invest and evolve it may part of the consideration."
Nor will the brands try to fully emulate consumer fashion magazines such as Cosmopolitan and Vogue by launching big consumer-facing events.
Carter explained: "We do reader events for Style but we haven't done any big consumer-facing events…. The brand is strong enough but I'm not convinced this is currently an area we want to get into. Building the brand now is important and give them a proper digital play and we'll take each day as it comes."
Rebekah Brooks, chief executive of News UK, added: "Our multi-platform magazine portfolio offers advertisers a massive range of opportunities to reach highly-engaged audiences at scale and these changes will only grow that opportunity.
"Style and Fabulous already lead the UK women's magazine market and the products remain the flagship for the brands. The extended online offerings provide a wealth of innovative new advertising partnership opportunities whilst significantly enhancing our reader offer."