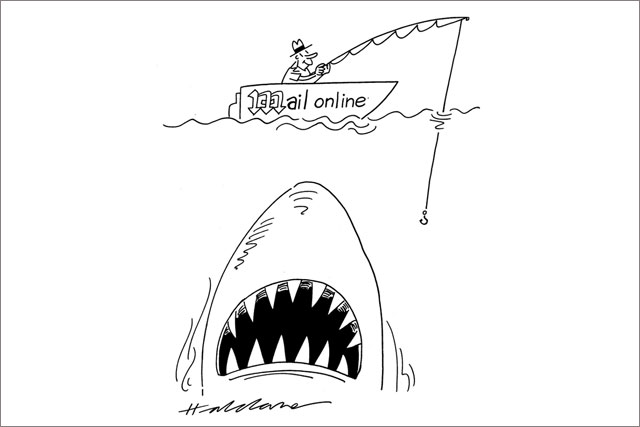 Speaking at the Digital Media Strategies 2014 conference, the Daily Mail's approach to digital journalism was repeatedly attacked for its frivolity, divergence away from its traditional journalism, and for its over-reliance on advertisers.

MailOnline, the world's biggest newspaper site where traffic has increased 50 per cent year on year to nearly 190 million unique browsers and 11.8 milion a day, was clearly top of mind for the leader of The Times and The Sun newsbrands.

He said: "[At News UK] I could decide to focus it [editorial] all on a narrower, easier genre of news content, such as celebrity gossip, and drop the other harder stuff completely. That would be easier to monetise digitally. But if we did that we would have abandoned our purpose, abandoned our mission.

"Or, I could decide to be a redistributor or an aggregator of news generated by others, that might also be easier to monetise – it would cost a lot less, I wouldn't have to pay as many journalists. But we don't want to be redistributors, re-writers of other peoples content, we want to be generators of content, setting the agenda and asking the questions.

"Someone has to dig out the story in the first place, establish its voracity and give it life, that's who we've always been, that's who we've always wanted to be."

In case the point was missed, Darcey added: "That's MailOnline dealt with, indirectly."
He went on to note how MailOnline's business model is entirely focused on monetising its mass reach with online advertising – with targets set of £60 million in 2014. News UK's combative leader said the MailOnline's reliance on the cyclical and volatile advertising market was a model many other media organisations were trying to move away from, including the UK's biggest commercial media operation, ITV.
To illustrate the precarious situation he believes the DMGT newsbrand now finds itself, he turned to The Times' cartoonist David Haldane for inspiration (above).


Guardian is still a heavily loss-making enterprise
Darcey did give begrudging respect to The Guardian, saying the company had "some big positives", not least in its clear vision and attempts to stay true to its original purpose "unlike some others around".

Acknowledging its global reach of now more than 80 million unique browsers, Darcey said The Guardian is "doing a good job of getting its message, its world view out there… but the question I always come back to is, how will this pay for itself in the long run?… at the moment it's still a heavily loss-making enterprise."
Noting that last time he mentioned the Guardian's losses, "some were unhappy with his brevity of it", the chief executive of News UK then embarked on a full dissection of his rivals financial performance.

"At the operating level in [The Guardian's] last set of accounts, they lost £46 million. Now various other below the line adjustments take this to a loss before tax of £40 million, and then a curious tax credit of £9 million carries them to a loss after tax of £31 million.

"Now profit is a tricky concept, and even the FT got this a little bit confused yesterday, referring to an after tax figure benefiting from a tax credit as an operating loss. But in the end you can take any of the figures you like, they all lead to roughly the same point: the model loses significant sums of money today.

"This might be fine for The Guardian, at least for a while, they have a lot of money in the bank… but it wouldn't work for me. Mr Murdoch has been very clear to me; my job is to run a profitable business. Being a drain on the other successful parts of News Corp is not an option that's available to me."
'The digital revolution has become our friend'
Darcey, who was named as News UK's CEO in December 2012, reiterated his belief in making consumers pay for content as the only long-term sustainable option for a sizeable publishing business pursuing original and investigative journalism today.
By the end of 2013, The Times and Sunday Times had 153,000 paying digital subscribers and a further 207,000 print subscribers with digital benefits. Meanwhile, The Sun attracted 117,000 paying digital subscribers within its first four months of erecting a paywall.
Darcey said: "At News UK our approach is firmly rooted in a paid for proposition in all formats. This has been the approach of the Times for around 230 years - there was a small wobble a few years ago, a brief dalliance with free content on the web - but since 2010, The Times and the Sunday Times have been wholly paid for in all formats, and last year the Sun followed suit… With this strategy, the digital revolution has become our friend."