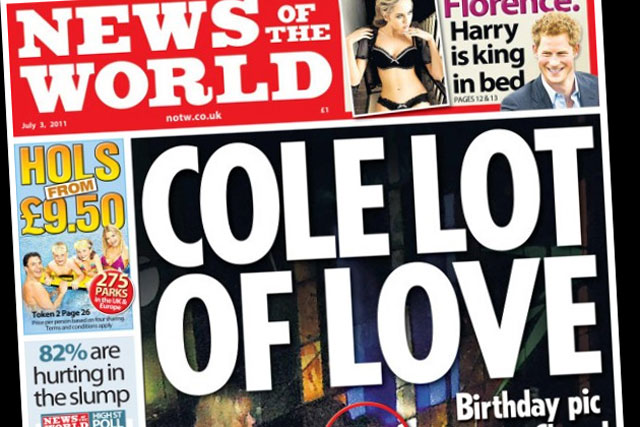 The news was described, in turn, as a "sad day" for newspapers and "a canny move" by James Murdoch to kill off what was fast becoming a toxic brand.
Speculation is mounting that News International will be quick to launch a replacement Sunday title, though at this stage News International has declined to comment on this.
Mike Anderson, the former managing director of The Sun, deemed it a "sad day" for newspapers.
He said: "It is an extraordinary turn of events. None of it is good for the newspaper business."
While News International has not disclosed whether it will launch a replacement title, suggestions are already being made that the Sun will be turned into a seven day operation and some believe it has not yet factored into its plans.
Anderson, for one, believes at this stage launching a replacement title is not on News International's agenda.
Press directors have been gobsmacked by James Murdoch's decision.
Amy King, head of press at MPG Media Contacts, said: "This is the biggest thing that has happened in my career, it's a strange day for newspapers, but there are many clients that had already pulled out and how long would that go on for?
"It wouldn't take them a couple of weeks to change their mind, and if this situation had gone to court it would have been months or years of legal battles. It is quite clever what they have done, but it remains to see what happens next."
One press executive for a leading media agency, who asked not to be named, said it was a "no brainer" that The Sun would become a seven-day operation.
Describing the benefits of launching a Sunday issue of The Sun, he said: "The Sun can charge more for ads and so a Sunday Sun could get more than the News of the World.
"From a commercial and brand point of view it seems to make sense. All-in-all, Murdoch always tends to come out on top.
"In the grand scheme of things it's such a small part of News Corporation. Closing the News of the World will generate an enormous amount of good will followed by a certain amount of income."
Liam Mullins, head of press at the7stars, said: "It is sad to see such an iconic newspaper brand close, but I think they have done the right thing. I think they will re-emerge stronger in a different form and I'm looking forward to seeing it."