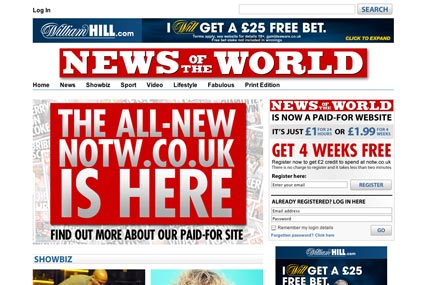 The refreshed website, which appears cleaner and less cluttered than the previous site, went live today (Thursday).
News International is charging £1 for 24 hours' access, or £1.99 for four weeks' subscription to access www.notw.co.uk.
The charges compares to £1 for access for a day's access to The Times and The Sunday Times website, and £2 for a week's access.
Payment is taken by debit card and the site claims that it takes less than two minutes to register. Subscribers must give their postal address as part of the registration process.
Access to the News of the World's magazine, Fabulous, is included in the charge.
The redesigned website includes news, showbiz, and sport, along with extensive video.
To lure in customers, the site is offering £2 free credit, redeemable on the site.
News International is expected to erect a paywall in front of The Sun –The News of the World's sister title – in the coming months.
The News of The World is the best-selling UK Sunday title and recorded an audited ABCs figure of 2.8 million in August, ahead of second-placed The Mail on Sunday, with 1.9 million.
The Sun is the best-selling daily title and had an average daily circulation of more than three million in August this year.