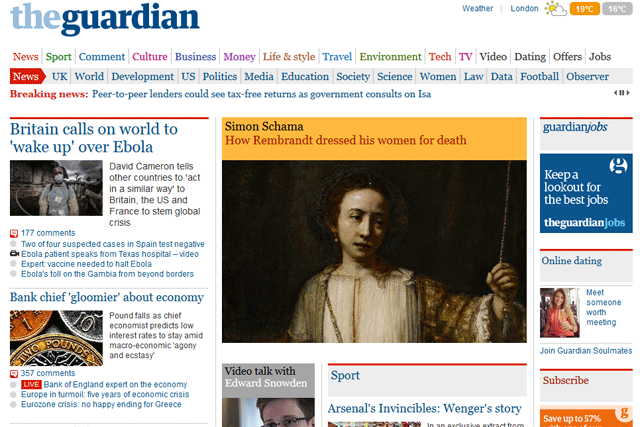 Daily Mail & General Trust's MailOnline continues to set the pace, achieving its biggest ever day for traffic last month, as more than 14.3 million global daily unique browsers accessed its website and apps on the 2 September 2014.
This contributed to the MailOnline reporting a record month for global average daily unique browsers of 11,792,392, up 4% month on month and 24% year on year.
Monthly unique browsers for the MailOnline reached a new high of 184.3 million.
The growth of video for newsbrands is another notable trend, with MailOnline reporting more than 50 million global video views for the third month in succession, up 60 year on year.
For UK-only traffic, MailOnline posted 57.8 million monthly unique browsers visitors, up 4.8% on August and 23% year on year.
The Guardian reported record traffic of almost 114 million monthly unique browsers in September 2014, up from the previous July's record of 105.4 million.
September has seen a month-on-month increase of over 10%, and a 37% rise from the same time last year.
The Guardian continues to grow across the world, with the UK, US, Australia and the rest of the world all recording a rise in traffic. Growth was particularly strong in the UK (+8.51%) and in the US (+14.47%).
Elsewhere, Independent.co.uk passed 50 million unique browsers for the first time, with 53 million, up 15.4% month on month and 78% year on year.
Average daily unique users stood at 2.4 million, up 12.8% month on month, and 74% year on year.
In the UK, the Independent attracted 18.3 million monthly browsers, up 5.5% month on month and 57% year on year.
The new site i100 (audited within the main Independent figure but not broken out on the ABC certificate), recorded 2.3 million monthly unique users, up 25.3% since its launch in August.
Christian Broughton, digital editor of The Independent and i100, said: "Reaching 53 million monthly unique browsers is a hugely important milestone for us.
"It's a seriously big number, built on strong content from a great team, a confident editorial tone and distinct identity, a highly engaged and growing social audience, and bold innovations such as i100.
"But more significantly it gives us a great platform for our ambitions – there's a lot more to come."
Average daily unique users for Sep 2014

| Website | Average daily unique users | % y/y change |
| --- | --- | --- |
| MailOnline | 11,792,392 | 24.26 |
| theguardian.com | 6,499,563 | 41.29 |
| Trinity Mirror Group: Digital | 5,026,977 | null |
| Telegraph | 3,973,637 | 24.16 |
| Mirror Group Nationals | 3,883,412 | 158.38 |
| The Independent | 2,397,122 | 73.62 |
| Metro | 1,462,873 | 98.44 |
| Trinity Mirror Regional Network | 1,348,251 | null |
| express.co.uk | 754,722 | null |
| dailystar.co.uk | 556,126 | null |
| Manchester Evening News | 389,131 | null |
| Evening Standard | 350,984 | 79.82 |