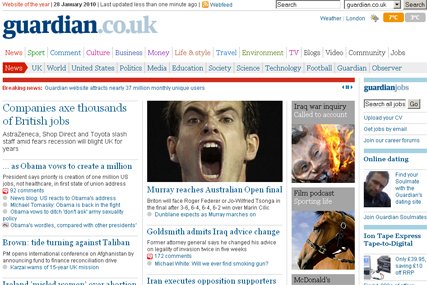 The majority of national newspaper websites enjoyed unique users growth in December, possibly buoyed by the inclement weather in some parts of the country.
The Guardian News & Media (GNM) website, which includes content from The Observer, reported 36.98 million unique users in December, an increase of over a million unique users from November.
MailOnline, the Daily Mail & General Trust website network, cemented its position as the number two national newspaper website after its December traffic grew by 5.1% to 32.8 million unique users.
Telegraph.co.uk retained its third place status but shed around 100,000 unique users in the month, registering an ABCe figure of 30.7 million unique users, down 0.33% from the previous month.
The News International-owned websites, Sun Online and Times Online, continued to battle it out for fourth spot, though both remain significantly behind Telegraph.co.uk.
News International, which is preparing to move its content behind a paywall, would have been cheered by the performance of the Sun Online, which was up 3.5% on the month to register 20.9 million unique users.
But sister site Times Online fell 5.14% to 19.8 million unique users in December.
Independent.co.uk chipped into the lead of Mirror.co.uk and is now less than 400,000 unique users behind after its unique users number grew 4.71% to 9.35 million in December.
The Mirror's group network of sites, including its flagship Mirror.co.uk, fell 8.73% to 9.7 million unique users.
More on Brand Republic blogs