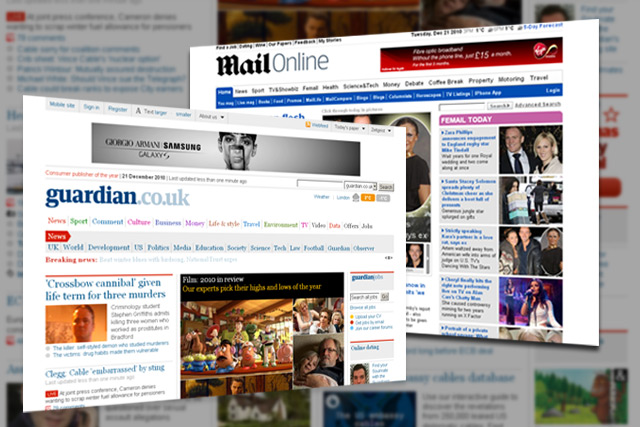 Figures from ABCe published today (21 December) highlight Guardian.co.uk increased average daily browsers by 11.74%, from 2,080,691 in October, to 2.32 million average daily browsers.
MailOnline, the market leading website that incorporates content from the Daily Mail and Mail on Sunday, continues to set the pace, following a 6.56% lift in average daily browsers to reach nearly three million (2,939,799).
It was the MailOnline's 11th consecutive month as Britain's top newspaper website, a position once proudly held by Guardian.co.uk.

The website recorded 51.43 million global unique visitors over the month, a 3% increase over October 2010 and a 65% lift since November 2009.

MailOnline was visited by an average of 1,324,342 UK residents every day, 57% more than in Nov 2009 and 13% higher than Oct 2010. No other UK newspaper yet publishes this metric.

The other competing newspaper sites involved in the public audit all reported a reduction in average monthly browsers, although daily numbers increased.
Telegraph.co.uk, the third most-visited UK newspaper site, reported 1,724,153 daily average browsers, up 0.1% on October. The website's monthly browsers fell by 3% to 32,896,824.

Independent.co.uk was up 0.42% month on month to 555,908 average daily browsers. The site suffered a 3.6% drop in monthly browsers to 11,998,851 from October. Since Russian billionaire Alexander Lebedev took control of the brand, the site has lifted 30.29% year on year.

Average daily browsers for Mirror.co.uk increased 0.8% month on month to 534,188. Monthly browser figures fell 2% month on month to 11,443,999.
ABCe Results Nov 2010
Nov
Month / month
Year / year
Nov
Online title
Global Daily Ave
Daily % change
Daily % change
Monthly total
MailOnline
2,939,799
6.56
55.77
51,434,953
guardian.co.uk
2,324,949
11.74
20.67
40,804,452
Telegraph
1,724,153
0.10
6.03
32,896,824
Mirror Group Digital
534,188
0.76
6.25
11,443,999
The Independent
559,927
0.72
36.78
11,998,851