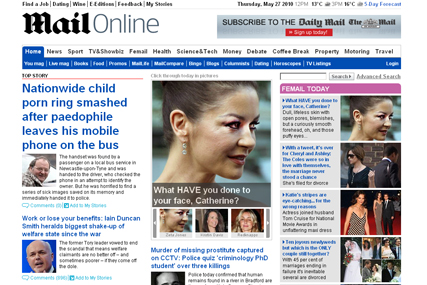 On the ABCe's preferred measure, daily average browsers, MailOnline's traffic climbed 5.3% from March to 2.37 million.

Closest competitor Guardian.co.uk, which includes The Observer's website, dropped 0.8% from March to 1.84 million.

There was a notable setback for Trinity Mirror's Mirror Group Digital portfolio, which includes Mirror.co.uk, 3am.co.uk, Mirrorfootball.co.uk, Dailyrecord.co.uk, Sundaymail.co.uk and People.co.uk.

Its figure was down 5.6% from March to 441,768 browsers. On a year-on-year basis it is up just 11.4% compared to Guardian.co.uk's 22.4% increase and MailOnline's staggering 74.5% growth.

Also struggling is Independent.co.uk, which is actually down year-on-year by 2.4% though its 455,255 figure is up 2.2% from March.

Telegraph.co.uk rose 1.7% from March to 1.58 million, inching closer to Guardian.co.uk's 1.84 million total.

There was again no figure reported by The Sun and Times Online, News International having decided earlier this year it was not worth publishing ABCe figures in light of its move to erect paywalls around its online content.
Earlier this month, Media Week revealed that The Financial Times has also opted out of publishing monthly ABCe figures after announcing "volume traffic measures have become less relevant to our advertisers and clients".
ABCe figures April 2010
Online title
April
Month / month
Year / year
April
Global Daily Ave
Daily % change
Daily % change
Monthly Total
MailOnline
2,366,495.00
5.3
74.5
40,500,667
guardian.co.uk
1,837,331.00
-0.8
22.4
31,900,127
The Independent
455,255.00
2.2
-2.4
9,871,286
Mirror Group Digital
441,768.00
-5.5
11.4
9,329,485
Telegraph
1,583,305.00
1.7
28.5
30,227,486