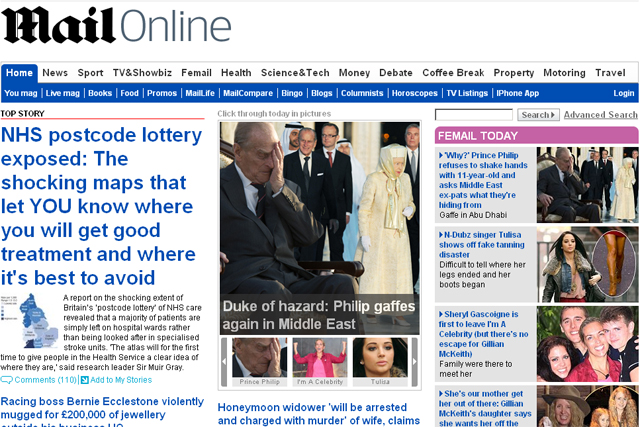 MailOnline's monthly traffic climbed 6.7% from 46.9 million in September, the biggest increase of any national newspaper website.
On the ABCe's preferred measure of daily average browsers, MailOnline's growth also lead the field with a 3.3% jump to 2.76 million.
Telegraph.co.uk almost matched that rate, its daily average browsers climbing 3.2% to 1.72 million.
This brings it closer to Guardian.co.uk, the second-biggest title, which notched up 2.1% growth to 2.08 million. The Telegraph has 33.9 million monthly browsers to The Guardian's 37.5 million.
All of the five national press groups that publish ABCe figures enjoyed growth in October, which witnessed big stories such as the Chilean miners' rescue and chancellor George Osborne's spending review.
However, the leaders widened the gap over the laggards, with Independent.co.uk rising just 0.4% to 555,908 daily average browsers.
Mirror Group Digital, which includes Mirror.co.uk, 3am.co.uk, Mirrorfootball.co.uk and DailyRecord.co.uk, was up 0.8% to 530,138.