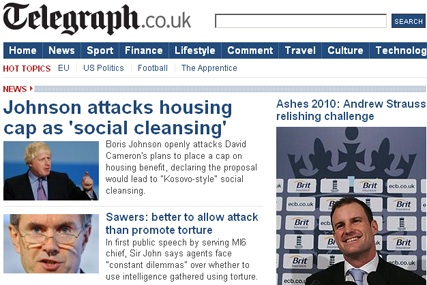 Telegraph.co.uk, which carries articles from the Daily and Sunday Telegraph as well as original editorial copy, witnessed a 1.1% fall in monthly unique browsers to 32.1m between August and September.
MailOnline, the website for the Daily Mail and Mail on Sunday, has furthered its lead over its rivals with a 3% rise in monthly unique browsers to a new record high of 46.9 million.
The MailOnline's figure was up an eye-catching 56.1% on the year. Monthly unique browsers for second-placed Guardian.co.uk were 35.98 million, up 2.9% on the previous month and 9.2% on September 2009.
National newspaper websites now use daily average browsers as their preferred measurement, as they feel it is more representative than monthly browser figures.
The number of daily average browsers on MailOnline rose 4.62% to 2.67 million in September while those on Guardian.co.uk grew 4.99% to 2.04 million.
News International withdrew all its audited web traffic figures earlier this year after it opted to put the editorial content of The Times and The Sunday Times behind a paywall in June.
The Sun is expected to soon follow The News of the World and put its new content behind a paywall.
According to estimates provided by Nielsen this week, The Times and Sunday Times websites have suffered an 88% drop in UK unique users accessing their full site content since News International began charging for access in July.
Elsewhere in September, as the football season gathered momentum, it was the relative minnows of the online news world which displayed the biggest leaps.
Independent.co.uk was up 12.9% on the month to 553,593 average daily browsers while Mirror Group Digital, which includes Mirror.co.uk, 3am.co.uk, Mirrorfootball.co.uk and DailyRecord.co.uk, was up 5.3% to 525,914 average daily browsers.


ABCe Results Sep 2010
Sept
Month / month
Year / year
September
Online title
Global Daily Ave
Daily % change
Daily % change
Monthly total
MailOnline
2,670,371
4.62
50.60
46,910,754
guardian.co.uk
2,038,493
4.99
16.15
35,975,755
Telegraph
1,669,773
-0.68
2.69
32,007,189
Mirror Group Digital
525,914
5.26
22.95
11,277,113
The Independent
553,593
12.86
37.03
12,029,545