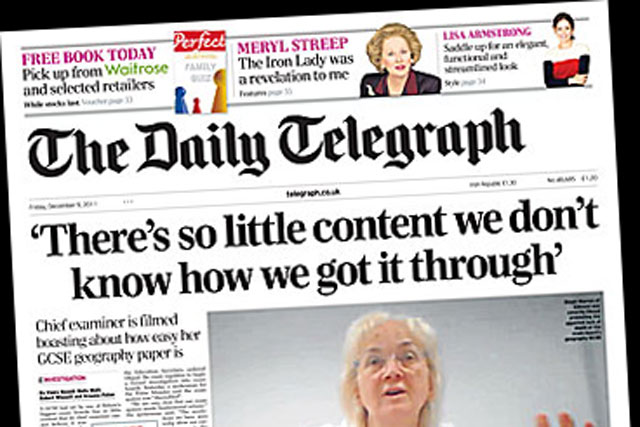 November's figures show that The Daily Telegraph slipped back 1.53% on the previous month to report an average circulation of 594,644. This represents its lowest circulation since modern records were inaugurated in 1962.
The title lifted its weekday cover price from £1 to £1.20 on 14 November, mirroring a similar move by The Guardian. The Saturday edition of The Daily Telegraph was also lifted by 10p from £1.90 to £2.
The circulation of The Daily Telegraph has been falling since August, when it was above 630,000.

However, visitors to the Telegraph.co.uk, like other national newspaper websites, are rapidly increasing in numbers.

In October, Telegraph.co.uk was up 14.9% to an average daily user figure of 2,292,052.
November figures for the national daily titles reveal that The Times, The Independent and The Guardian all dipped on the previous month, reporting circulations of 413,233, 127,873 and 226,473 respectively.
Alexander Lebedev's digest title the i was up 4.9% to 221,736, helped by giving away 44,914 bulk copies, compared to 34,324 the previous month.
Across the rest of the market, the Daily Mail was up 0.16% to 2,001,643, while Richard Desmond's Daily Express was down 1.8% to 603,318.
The red-tops suffered the biggest fall as a group, declining 2.84% on the previous month. The Sun fell 3.4% to 2,624,167, and the Daily Mirror 1.3% to 1,103,405.
Follow John Reynolds on Twitter @johnreynolds10