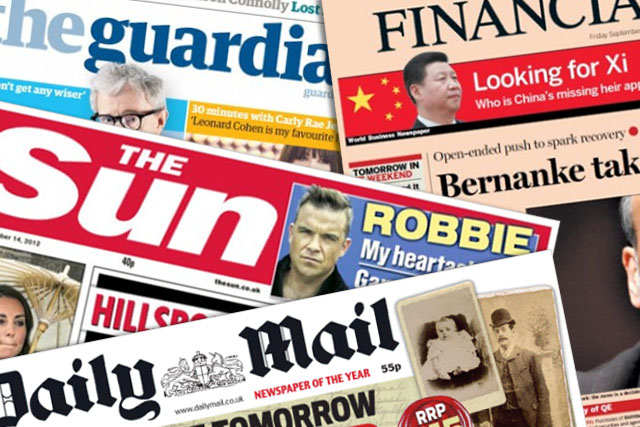 The Daily Express performed the best, mustering a 0.7% rise from October to 537,236 copies.
The Financial Times' stumble, from 293,326 copies in October to 281,882, means it has lost more than a tenth of its circulation during 2012 – although this is not far out of line from the overall daily market's 8.6% year-on-year fall.
In the context of the figures a Financial Times spokesperson claimed the FT has in the past year had more subscribers and readers than ever in its 124-year history and that its total paid-for print and digital circulation continues to grow and is now over 600,000 (citing Deloitte's Q3 2012 survey).
Elsewhere, the Independent, the loss-making daily which is looking for a minority investor, dropped to a new low of 79,071 copies, of which 18,410 are giveaways.
In the Sunday market, The Sunday Times dropped below 900,000 copies for the first time, falling 1% month on month to 894,992.
The 50p Sun on Sunday continues its descent towards two million copies, dropping 1.4% to 2,009,282.
And another (mid) market leader, The Mail on Sunday, fell 1% to 1,732,385 copies.
However, the Sunday market's worst performer was the Daily Star Sunday, which lost 5.4% of its circulation to hit 368,268 copies after a 10p cover price rise in October.
The overall Sunday market is up 3.3% year on year to 8,674,323 copies, with help from the launch of the Sun on Sunday in February.
Full figures for November 2012 (Click interactive graphics below for full details)
AUTOFEED INTERACTIVE DATA