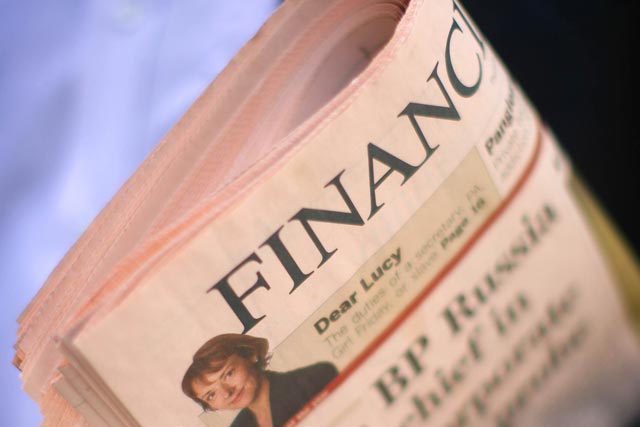 The £2 premium-priced business title reported a circulation of 362,685 in May, a fall of 2.52% on the previous month, making it the biggest faller across the quality market.
Year on year, the title was down 9.3%, according to the latest ABC figures. The FT's circulation has not been this low since January 1997.
This year's trend has seen the FT drop close to the 350,000 mark. The last time it was above the 400,000 mark was in November last year.
The FT, however, pointed to its combined paid print and digital circulation of 605,402, in the period January to April, according to a Deloitte report.
The FT's website has metered access, and offers subscription packages to its journalism, as it believes that consumers will pay for specialist business journalism.
A spokesman said: "Reader migration from print to digital reflects the changing tastes of consumers worldwide and while it's true that the composition is changing, importantly, demand for FT journalism remains healthy."
The FT this week launched a web-based app that cuts out Apple's iTunes store and other distributor channels.
Across the rest of the national press, the i appears to be defying the odds that there is no customer appetite for new entrants into a congested newspaper market.
The cut-price digest paper, edited by Simon Kelner, reported a circulation of 167,067, picking up nearly 6,000 readers on the previous month.
It will be hoping for a further uplift in circulation next month, fuelled by its online campaign fronted by Kelner and created by Big Al's Creative Emporium.
The other titles across the red-top, quality, and mid-market sectors failed to benefit from big news stories, including the death of Osama Bin Laden, and high-profile figures taking out super-injunctions.
The i's sister title The Independent reported a circulation of 179,371, down 0.76% on the month.
The Guardian, at 262,937 copies, The Daily Telegraph, 635,967, and The Times, 446,684, also suffered nudges, down less than 1% on the month.
The mid-market, dominated by the Daily Mail, was down overall by 1.73%. The Daily Mail was down 2.07% on the month, to 2,056,881.
The red-tops outperformed the rest of the market, lifting 2.29% on the month.
The country's biggest-selling paper, The Sun, increased its circulation 2.29% to 2,846,905, outperforming rivals the Daily Mirror and the Daily Star.