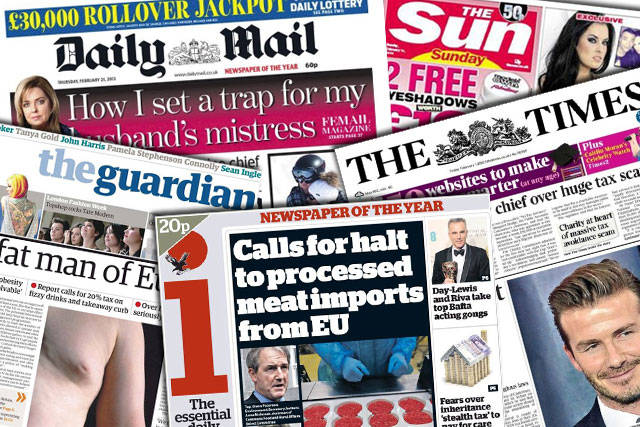 Sales of the Guardian News & Media title dropped 5.31% month on month to 193,586, according to today's Audit Bureau of Circulations, its lowest headline figure since its record began in 1949.

The circulation low follows The Guardian raising its coverprice of weekday and Saturday editions by 20p from 12 January, to £1.40 and £2.30 respectively.

The publisher will be further disappointed that the sales slump below the psychological 200,000 milestone comes on the back of a major advertising campaign, created by Bartle Bogle Hegarty and staring Hugh Grant, among others.

Launched in mid-January, the campaign signalled the first time that GNM, led by the chief commercial officer, David Pemsel, and the director of brand and engagement, Richard Furness, had launched a January campaign to promote its weekend offering. The satirical premise of the ad is that the Saturday Guardian and The Observer effectively "own the weekend".
A Guardian News & Media spokesperson, said: "The Guardian and The Observer continue to perform well in an increasingly challenging market. Before February, the Guardian was the only quality news title to see an increase in newspaper sales for three months in a row, despite a price rise, and February's performance for both titles remain ahead of projections for the year.
"The Guardian is a growing global brand with the world's fourth-most popular news website and the UK's number one quality newspaper mobile site. We are seeing record digital traffic on every single measure and our journalism is being read by more people than ever before."
Elsewhere, February proved to be a strong month for the Independent's 20p digest i, where average daily sales increased 1.45% month on month, to 298,206, up 13% year on year. The i's headline circulation figure does include 64,567 bulks copies sold predominantly to airlines, hotels and gyms for a nominal fee.
For the rest of the press sector, circulations dropped in the short 28-day-month of February - which also hosts the schools first half-term break of the year - although no others passed a major milestone, perceived or otherwise, like The Guardian.
The most notable fall came from sales of News International's Sun on Sunday, down 4.88% month-on-month. February also represented the first full year since the Sunday newspaper's launch, born out of the ashes of News of the World closing after the phone-hacking scandal.
Today's figures highlight sales of the Sun on Sunday have fallen by 40.48% since Rupert Murdoch launched the tabloid with sales of 3.22 million in its first weekend.
However, the Sunday tabloid was credited with having helped boost News International's advertising revenues in its last financial update, and it remains the biggest selling UK Sunday paper by some distance; more than 200,000 copies ahead of nearest rival the Mail on Sunday.
Full figures for February 2013 (Hover over or touch interactive graphics below for full details)
AUTOFEED INTERACTIVE DATA
Follow @DurraniMix