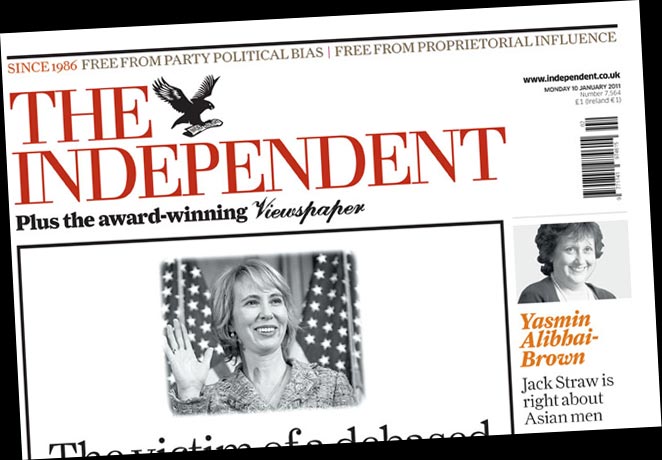 Publishers, however, claimed that their circulations were impacted by Christmas Day and New Year's Day falling on a Saturday.
Publishers said national daily newspaper figures were deflated in the period 29 November to 2 January as New Year's Day fell on a Saturday, the biggest sales day of the week, when they did not publish.
The tabloids were worst hit, as a flurry of big news stories about the bad weather failed to lift sales.
But The Independent's circulation nudged down just 1.5% on November to an average circulation of 175,002, compared to an overall market fall of 4.3%.
The Independent was guest-edited during the month – on 1 December – by Elton John, to mark World's Aid Day.
The Sun and the Daily Star, which are engaged in a cover price war in the capital, were the biggest fallers in December, dropping 6.3% to 2,717,013 copies, and 5.7% to 713,602 copies respectively.
Both tabloids lifted their cover prices from 20p to 25p in the capital this month. The Daily Mirror fell 3.8% to 1,133,440 in December.
Across the mid-market sector, the Daily Mail was down 3.3% to 2,030,968 copies. It was helped according to Neil Jagger, its circulation director, by strong subscription activity, which also boosted The Mail on Sunday
He said: "Enhanced brand advertising over recent months, combined with strong promotions and subscriptions activity in December itself, have helped both titles to outperform their respective markets and further increase their market shares."
The Guardian, The Daily Telegraph and The Times all fell in the month, as did the Financial Times.
The Daily Telegraph – which broke the story about Vince Cable threatening to "bring the Government down" – suffered the biggest month-on-month drop across the quality press.
It fell 3.3% to 631,280 copies, compared to The Guardian's fall of 2.1% to 264,819 copies and The Times' dip of 3.8% to 448,463 copies.
The Financial Times fell 2.6% to 390,121 copies.