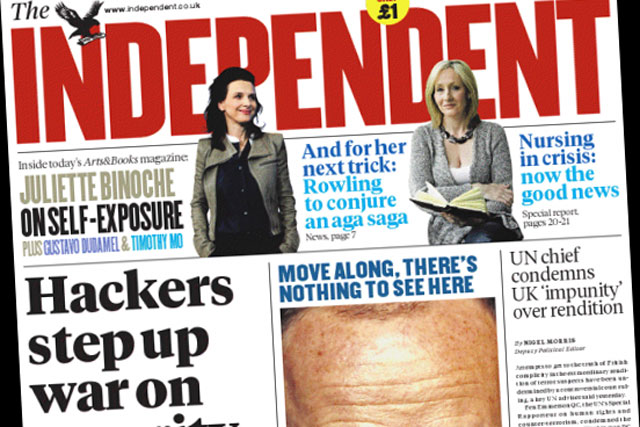 The Sun pulled back circulation after a substantial fall in February, rising 1.3% to 2,614,725 copies. In similar circumstances the Daily Mail added 0.4% to 1,952,524 copies.
However, their rivals were hit by back-to-back monthly falls. The Daily Mirror dropped 1.7% in March to 1,083,938 copies after a 1.8% fall in February and the Daily Express fell 3.3% in March to 558,513 copies after a 1.6% fall in February.
In the "national morning quality" category the main movers were The Independent, down 4.3%, and its cut-price stablemate i, up 3.5%.
Their opposing directions of travel are exacerbated by Independent Print's strategy of gradually transferring bulks – free copies typically used for sampling titles – from one to the other.
Between March last year and March this year bulks on The Independent have been reduced from 73,810 to 29,630 while bulks on i have been pumped up from 7,770 to 62,510.
The Independent's headline circulation (including paid-for and bulk copies) is down 44.7% in the same period from 181,934 to 100,672.
The i, which Independent Print has backed with advertising campaigns, is up 59.7% from 171,415 to 273,793, its highest level to date.
The overall daily newspaper market is down 7.4% over the same period to 9,086,036 copies, with a 0.1% rise on February.
National newspaper ABC figures: Daily Titles
Monthly
Monthly
Monthly
Avg Circ
Circ
Circ
Circ
Daily Titles
Mar-12
Feb-12
Mar-11
Other
Multiple
countries
copies

Daily
Mirror

1,083,938
1,102,810
1,155,895
33,851
-
Daily
Star
617,305
617,082
699,216
5,239
-
The Sun
2,614,725
2,582,301
2,817,857
20,539
-
Daily
Express
558,513
577,543
620,616
13,237
-
Daily
Mail
1,952,524
1,945,496
2,039,731
86,218
118,231
The Daily
576,378
578,774
626,416
12,861
-
Telegraph
Financial
319,381
316,493
381,658
221,498
32,013
Times
The
Guardian
217,190
215,988
261,116
-
-
i
273,793
264,432
171,415
-
62,510
The
100,672
105,160
181,934
589
29,630
Independent
The Times
394,102
397,549
446,109
18,628
-
Follow Daniel Farey-Jones on Twitter @danfareyjones