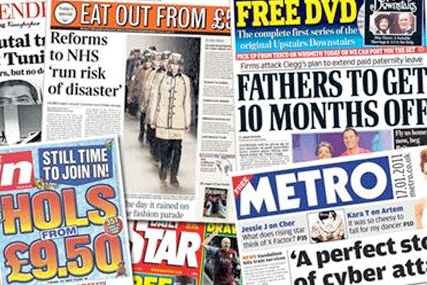 Last Friday ABC issued its National Newspapers Report, highlighting changes in circulation figures from the country's leading newspapers, and although just one barometer of a newsbrand's health, circulation is still critically important.
Across the titles October saw just half a percentage point drop on the dailies and less than one and a half point drop on the Sunday titles.
As ever, circulations are hostage to good content, and October had plenty to help drive consumers to purchase the printed word. The Rugby World Cup, although without a home nation in sight, captured the imagination of the country. Also, there was the emissions scandal, which abruptly brought months of continuous growth in the car industry to an end.
As ever, not everything is equal. When we break down the figures further there are some intriguing sub plots. The red tops have had a hard time this year with an average year on year decline of 10 per cent.
However in October we see the fruits of Northern & Shell dropping the cover prices from 40p to 20p on The Star with a seven per cent increase in circulation. It will be interesting to see whether this price becomes permanent, as it will be costing them about £80,000 a day in lost cover price revenue.
The Sun also did well with a flat performance when compared to September.
In the Quality Sector, News UK will be happiest with the performance of The Times. They are slightly up in October and flat across the year. The Times and The Telegraph's subscription model means they are less vulnerable to day to day changes than the other quality newspapers.
These results are nothing to get too carried away with, but it does show that the printed word is far from dead. I also think that, as I mentioned earlier, circulation is just one barometer of a newsbrand's health.
All too often we hear about how quickly newspapers are losing readers. This needs to be balanced with the great strides that newsbrands, amongst others, are making in digital. Newsbrands have never been read by more people.
This should be celebrated, not rewarded by declining advertiser budgets. We need to ensure that both clients and agencies understand the benefits of associating their brands next to quality content, regardless of the platform you read that content on.
David Mulrenan is head of display at ZenithOptimedia