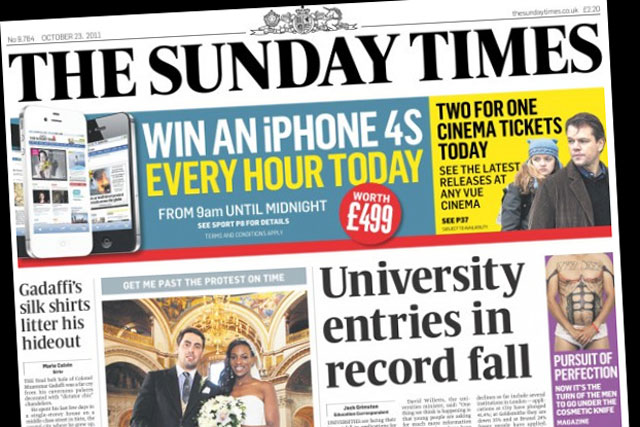 News International's market-leading Sunday Times fell 8.5% year on year to 967,990 copies, its lowest figure in modern records stretching back to the early 1960s.
The same was true for The Sunday Telegraph, which dropped 6.8% year on year to 471,894 copies, and The Observer.
Both the Sunday Times and the Sunday Telegraph include their overseas copies in their ABC headline figures, in contrast to The Observer and The Independent on Sunday.
The Observer hit a new low of 268,355 copies. This is down 8.9% year on year if its October 2010 overseas copies are stripped out and down 14.4% if not.
The Observer stopped printing overseas copies on 1 October and stopped including them in its ABC figure in July.
The Independent on Sunday registered an ABC of 130,942 copies, which was down substantially on previous figures because it stopped printing overseas copies in October, slashing the number of overseas copies it reported this month to just 928 copies from 22,239 copies last month.
We reported last month that Alexander Lebedev was to axe printing international editions of The Independent and The Independent on Sunday.
Year on year the drop is 15.2% and month on month it is the same.
However, if overseas copies are stripped out it is up by 2.6% year on year.
Its headline circulation included 55,003 bulk copies this October and 53,170 bulk copies last October, while The Observer stopped distributing bulks in August 2009.
In the rest of the market The Mail on Sunday dropped 1.8% year on year to 2,000,251 copies but other national papers were up due to the effect of the News of the World's closure.
The Sunday Mirror is up 56.5% year on year to 1,773,627, though this was down 3.9% on its September figure.
Follow Daniel Farey-Jones on Twitter @danfareyjones