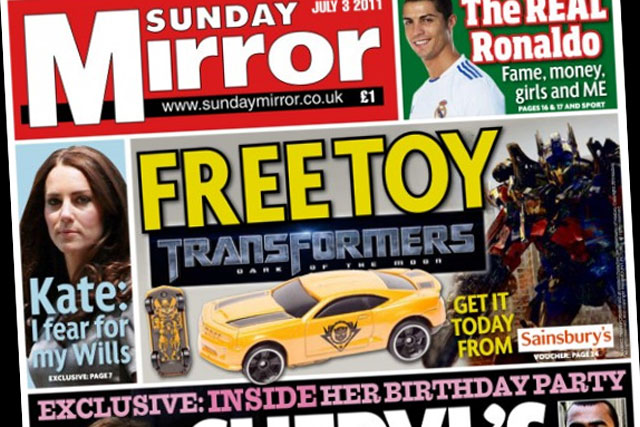 The Trinity Mirror paper recorded its highest monthly circulation since the terrorist attacks of 9/11, having taken advantage of the closure of The News of the World in early July.
Having bumped along with just above one million copies before the NotW closure, the Sunday Mirror leaped to 1,786,454 in July and again to 1,900,460 in August.
The Trinity Mirror title's August circulation is up by 66.7% year on year, an increase matched by its stablemate The People, which recorded 892,033 copy sales.
The Mail on Sunday also used the short-term tactic of price cuts and advertising to boost itself post-NotW, taking its circulation from around the 1.9 million mark to 2,255,399 in July.
However, it was down to 2,098,244 in August, which is just 6.8% higher year on year.
This month's ABCs are the first official figures to be published without including the News of the World. They confirm that the biggest year-on-year increase of any paper was enjoyed by Richard Desmond's Daily Star Sunday, while his Sunday Express also did better than the MoS.
The Daily Star Sunday's August circulation was up 95.4% year on year to 744,981 copies, and was also up 5.9% on July. The Sunday Express was up 17.9% year on year to 677,779 copies, and also up 4.5% on July.
Despite the increases, the overall Sunday tabloid market has taken a substantial hit from the disappearance of News International's market leader.
Last August the five papers in the popular category (including the NotW) accounted for 5,325,125 copies. This year that total is down 25.6% to 3,957,436 copies across four papers – the Daily Star Sunday, Trinity Mirror's Scottish paper Sunday Mail, the Sunday Mirror and The People.
The quality papers continued to be pockmarked by year-on-year declines, with the overall market down 4.9% from last August to 2,037,034.
The Independent on Sunday beat the trend, rising 5% year on year to 164,518, though it increased its bulk copies by 2.3% to 54,265.
The bulk-less Observer had no such luck, dropping 11.2% year on year to 274,304, a new low.
However a Guardian Media Group spokeswoman pointed out the paper no longer includes international sales – 21,449 copies in August 2010 – in its monthly audit, resulting in a 4.6% year-on-year drop.
The Sunday Times was down 5.1% year on year to 1,011,385 copies, though it recovered from its July fall to 993,768 copies.
The Sunday Telegraph registered 499,162 copies, down 1.4% year on year and down 0.4% month on month.
See the full figures from the national newspaper ABC report for August 2011