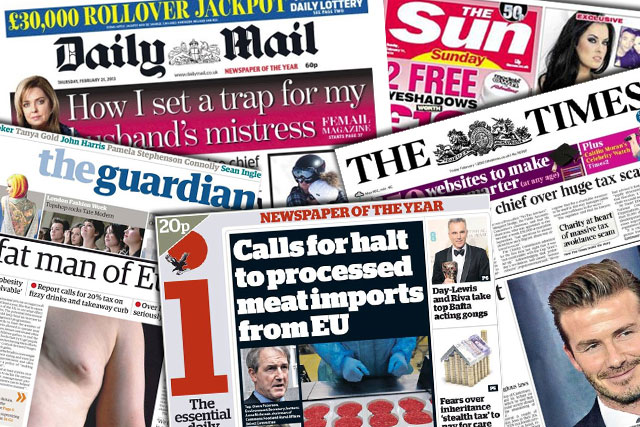 The ABC figures for June also show that The Daily Telegraph and The Sunday Telegraph, which put their digital content behind a metered paywall in March, were the best performers in the UK quality market in terms of month-on-month (0.28% and 0.44%) and year-and-year (-4.63% and -6.15%) sales change.
This excludes the influence of 'bulk sales' (copies sold at heavily discounted rates to companies such as airlines and hotels for free distribution) which The Telegraph does not declare.

Elsewhere, The Daily Star was the only tabloid to lift its sales in June, with daily average circulation increasing by 1.13%, to 540,849. The mid-market leader, Daily Mail, also achieved a 1.06% increase in average circulation to 1,806,569. This includes 92,238 bulk copies.

When compared to June 2012, all titles have lost circulation with the exception of Evgeny Lebedev's 20p i, which was up 11.16% to 303,009, despite a month-on-month drop of 1.16%. The i's circulation figure includes 65,003 bulk copies.
Full figures for June 2013 (Hover over or touch interactive graphics below for full details) AUTOFEED INTERACTIVE DATA Follow @DurraniMix