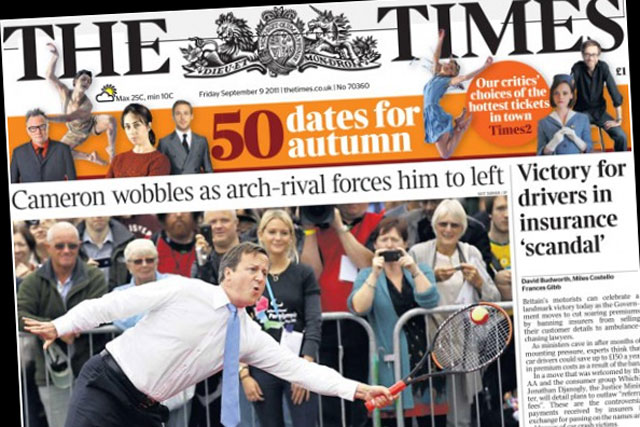 The Rupert Murdoch-owned title reported a circulation of 449,938, up 1.98% on July, and has added an extra 10,000 to its headline circulation since June.
Rival quality titles The Guardian, The Daily Telegraph, and The Independent all reported decreases, albeit slight ones.
Big news stories in August included the events in Libya and the start of the football season.
The summer months tend to be quiet for the newspaper market, but publishers will be expecting circulations to pick up in September.
The Times, priced at £1, does not give away any bulk copies, nor does The Guardian and The Daily Telegraph.
The Independent inflated its headline circulations figures of 180,470 by giving away 75,289 copies in August.
The big success story continues to be Alexander Lebedev's digest title i, which was up 4.03% to 191,077 – and is now outperforming its sister Independent title by more than 10,000 copies.
A further burst of TV support is in the pipeline for the title later this year. Executives are planning a big shake-up across The Independenet, i and The Evening Standard when the sales teams are expected to merge later in the year.
The red-tops performed, in general, poorly particularly as they would have hoped to lure in readers for the start of the new football season.
The Sun reported a small fall of 0.92% to 2,795,601 in August. The paper upped its cover price from 25p to 30p in London on Monday 15 August.
Its 45p rival, The Daily Mirror, fell back 0.91% to register a headline circulation of 1,174,924.
Executives at The Daily Mirror culled its plan to launch a dedicated sports title in the summer.
Richard Desmond's The Daily Star nudged down 0.50% to 703,218, its lowest circulation since May.
Across the mid-market, The Daily Express was up 0.61% to 629,764 while the Daily Mail was also up 0.66% to 2,063,738.
See the full figures from the national newspaper ABC report for August 2011