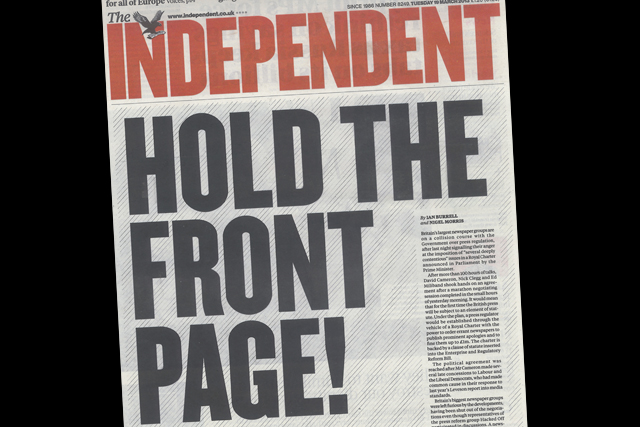 News International's The Sun ran with the front-page headline 'Ministry of Truth' and likened the changes to the totalitarian government department in '1984', while The Daily Telegraph quoted a human rights organisation's criticism of the curbs.
The Independent gave over its entire front page to the issue with the headline, 'Hold the front page!'. In an accompanying story, the paper's editor, Chris Blackhurst, was quoted as saying the plan was not "perfect but neither is it terrible".
The Independent, The Guardian and the Financial Times had previously broken ranks with other newspaper and magazine publishers and said they would be prepared to accept statutory underpinning.
Yesterday, the Department for Culture, Media and Sport published the Royal Charter on Self Regulation of the Press, which was agreed during late-night talks on Sunday between the Government, the Labour Party and campaign group Hacked Off.
As part of an amendment to the Crime and Courts Bill passed by MPs last night, judges will be able to apply exemplary damages to publishing groups who refuse to sign up to the successor to the discredited Press Complaints Commission.
A new clause in the Enterprise and Regulatory Reform Bill will give members of the House of Commons and House of Lords the power to change the Royal Charter if two thirds of them agree.
However, there was some confusion over whether the changes amounted to statutory underpinning of the Royal Charter, as was recommended by Lord Justice Leveson in November 2012.
Prime minister David Cameron said the changes did not amount to statutory underpinning, yet the Labour leader, Ed Milliband, and the deputy prime minister, Nick Clegg, said the charter was underpinned by "statute" and "legislation" respectively.
In a joint statement yesterday, the Daily Mail Group, News International, the Newspaper Society, the Professional Publishers Association and Telegraph Media Group said that contrary to reports by the BBC, they were not involved in the cross-party talks.
In the statement, the publishers also said that as they had only just seen the Royal Charter and Recognition Criteria they were not able to give any response to the proposals until they had had time to study them.
The Royal Charter is the Government's response to the Leveson Report, which followed the Leveson Inquiry, set up in response to the hacking scandal.
How the front pages covered press regulation deal vine.co/v/bp6eewP9lig

— Gordon MacMillan (@GordonMacMillan) March 19, 2013