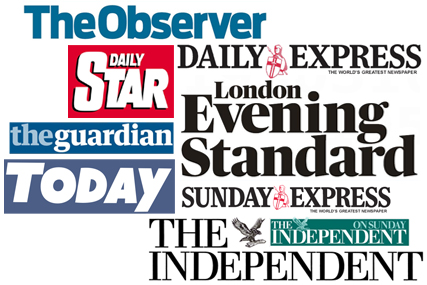 Contrary to popular belief, National Readership Survey data demonstrate that young adults are still interested in print – and it is those who are most active with digital media who are above average readers of both newspapers and magazines.
While this target market is likely to be willing to try a new paper, the real challenge for i will be to get them to develop a regular habit.
There is no doubt that there has been a structural change in newspaper readership in the last five years with fewer regular readers (and buyers) among both the young and the not-so-young alike.
It is too simplistic to say this is a response to the availability of news on the internet, as there are many other changes to lifestyle at home and work which are relevant, and have been for some time.
Most 15-34 year olds still read newspapers, as the chart below shows, even if it is on an occasional basis. In fact, on average they are likely to have a repertoire of four different national daily and Sunday newspapers.
Readership trends: % of 15-34 year olds
Source: NRS
Younger adults are less likely than their older counterparts to be regular readers of newspapers, but this has always been the case. What they have in their favour is a willingness to try different papers.
Indeed, we have seen some interesting developments with respect to the number of 15-34 year olds ever reading quality newspapers – the pool of readers sampling these titles, including The Independent, has actually increased by 14% over the past decade, partly as a result of readers expanding their repertoire of titles.
This may in part reflect responses to what has been a decade of innovation for the quality press – including a much more reader-centric focus in terms of both content and presentation.
It's also possible that the internet has generated some new readers in print by providing the opportunity to sample content online.
Whatever the case, while many 15-34 year olds undoubtedly get news and much more from the internet, that doesn't necessarily mean that they have turned their backs on print.
The 4.5 million 15-34 year olds who are the most avid consumers of technology are also above average readers of newspapers.
It is also worth noting that there are marked regional differences in newspaper readership, with higher levels of readership and more different newspapers read per head in The Independent's core area of London and the South East.
Clearly free is attractive to younger readers. Around 10% of average issue newspaper readers aged 15-34 only read Metro, though there is no sign that Metro expanded the overall market.
The Evening Standard dramatically changed its readership profile when it became free. As a paid title, 28% of its readers were aged under 35, now well over half are.
But what are the prospects for a 20p newspaper? This generation are prepared to try newspapers. As to whether the habit will stick, a key factor is likely to be not just price, or even content, but how easy it is to obtain.
Titles such as Metro and The London Evening Standard have in their favour, not just the fact that they are free but that they can be picked up without stopping or making any effort, as part of the daily commute.
So the hurdle for i is perhaps not so much whether younger readers will be prepared to spend 20p, as making its acquisition as easy as possible.
Katherine Page is technical consultant at NRS